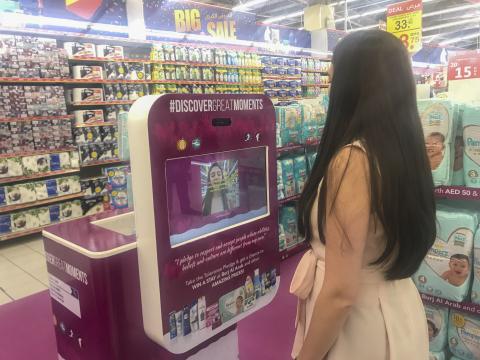 Carrefour, which is operated by Majid Al Futtaim in UAE, is collaborating with Procter & Gamble to encourage the people of UAE to share their respect of and acceptance for the country's diversity and inclusion through a national initiative.
 Individuals can take the Tolerance Pledge in-store at their nearest participating Carrefour or online via their social media accounts, using the hashtag #TolerancePledge. The Tolerance Pledge initiative is in store from now until August 7th, with a second in-store campaign in October of this year. The online campaign will run continuously, from now until the end of October as part of UAE's Year of Tolerance.
The goal is to have over 10,000 UAE residents take the Tolerance Pledge, to set a new Guinness World Record that underlines how important diversity and inclusion is to everyone who lives in the country.
The Tolerance Pledge itself reflects the openness and acceptance found in the UAE's society, which is made up of over 200 nationalities, dozens of religions and beliefs. Anyone taking part in the campaign needs to record themselves saying the following: "I pledge to respect and accept people whose abilities, beliefs and culture are different from my own." Carrefour will host video booths in ten stores nationwide, to offer the public the opportunity to take part. They can also upload themselves reciting the pledge on their social media, on Facebook, Instagram and Twitter, by using the hashtag #TolerancePledge. At the end of October, each individual Tolerance Pledge video will be merged into one album comprising over 10,000 unique entries and entered into the Guinness World Record book.
"As a leading shopping destination in the UAE, we pride ourselves to cater for everyone across more than 100 stores in the UAE irrespective of their faith, nationality or social status. We hope to see our video booths packed with a cross-section of society so that the world can see the values of openness and coexistence that makes the UAE feel like home for so many of us." said Philippe Peguilhan, Country Manager of Carrefour UAE at Majid Al Futtaim Retail.
"When everybody's included in a diverse society such as the UAE, it brings out the best out of everybody and helps to create communities that value everyone, and respect different points of view," says Saranathan Ramaswamy, Sales Director for the Arabian Peninsula, Procter & Gamble. "We've long worked to promote ways to break down barriers, to create positive portrayals of different groups of people, and to get them talking with each other. The Tolerance Pledge that we're launching with Carrefour is one way of bringing everyone together, so that we realize that we all share a common humanity no matter our differences of opinion, culture and beliefs. I'd urge everyone to take part, so that together we can share a message that we all believe in strength through inclusion."
Pledges can be made at Carrefour branches located in:
•              Mall of the Emirates
•              City Centre Mirdif
•              City Centre Shindagha
•              City Centre Deira
•              Ibn Battuta Mall
•              City Centre Me'aisem
•              Dubai Festival City Mall
•              Yas Mall
•              Marina Mall - Abu Dhabi
•              Al Saqr
Categories