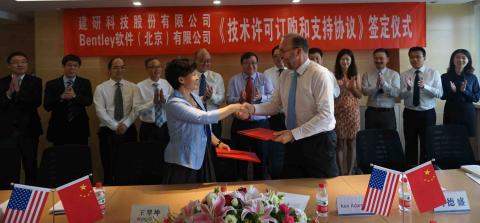 CABRTech and Bentley Systems today held a signing ceremony for a Technology Licensing Subscription and Support Agreement that advances "BIM for Buildings" in China. CABRTech developed and holds independent intellectual property rights to the domestic, customized PKPM-BIM platform and professional software, which was designed to solve the key challenges of BIM data sharing and collaboration through the full lifecycle of buildings. The PKPM-BIM platform includes the latest DgnDb technology and can quickly and effectively solve the challenges of big data storage and display to advance the design of buildings through state-of-the-art 3D technology and Chinese-standards-based "BIM for Buildings" best practices.
Through a partnership launched in 2012, CABRTech, the leader in Chinese building software founded by China Academy of Building Research and Bentley Systems, a leading global provider of comprehensive software solutions for advancing infrastructure, collaborated together to advance "BIM for Buildings" in China. This innovative solution enables unprecedented information mobility across the infrastructure disciplines, and project and asset lifecycles.
Chinese-standard BIM data for buildings created with PKPM-BIM can be seamlessly integrated with Bentley's broader infrastructure portfolio and common data environment, facilitating "smart cities." PKPM-BIM is fully supported through Bentley's ProjectWise collaboration system for comprehensive project delivery.
Mr. Encheng Ma, general manager, software business division, CABRTech, said, "Our decision to work with Bentley Systems is the result of years of intensive technology research focused on selecting a global software partner to jointly provide a world-class BIM solution for the China AEC industry. By combining Bentley's state-of-the-art interoperable platform technologies and information mobility concept with PKPM's mature multi-discipline technologies, large user base, and leading role in developing China BIM standards, we are confident that we can accelerate the adoption of BIM for Buildings in China."
Ken Adamson, Bentley Systems vice president, building, electrical and plant products, design modeling, said, "For 'BIM for Buildings' in China to reach its full potential, the software needs to progress very quickly and continuously – at 'China speed' – to catch up to and keep pace with China's unique scale and innovation in building technologies. For Bentley Systems, CABRTech is the ideal partner to reach and lead the fast-growing Chinese-standards-based BIM-for- Buildings market. As a result, PKPM-BIM can interoperate with our BIM software for a building's infrastructure context – the public works and civil project delivery and asset performance environment."
PKPM-BIM is available at CABRTech offices in Beijing, Shanghai, and Shenzhen as well as through channel selling in China. For more information about PKPM-BIM, contact the CABRTech Software Division.
Categories