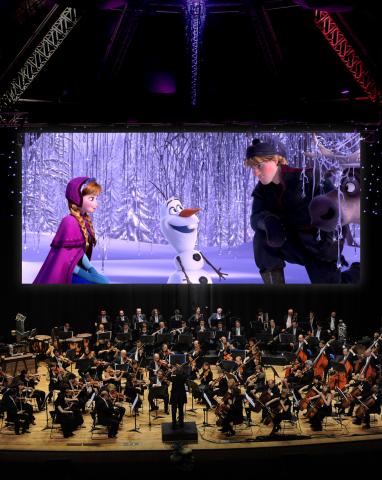 FLASH Entertainment presents a unique orchestral accompaniment of the BAFTA and Academy Award
®
-winning and number–one-animated feature film of all time, Disney's
Frozen
, at BIEL this March in Beirut. The exciting event is sure to thrill Disney fans who will re-live their favourite movie moments as the Beirut Symphony Orchestra with choir and soloists brings the movie's award-winning musical score to life. Tickets are now on sale through
www.ihjoz.com
and all branches of Malik's Bookshop, Khoury Home and LibanPost and Kidzmondo across Lebanon. As the highest grossing Disney animated film of all time, the celebrated soundtrack of Disney's
Frozen
has delighted its fans with its now legendary tracks such as
Do You Want to Build a Snowman, For the First Time in Forever
and the seminal,
Let It Go
.  Now, with the addition of the Lebanese Symphony Orchestra, made up of 76 different musical instruments and performers following the storyline of the Disney's
Frozen
movie and capturing the magnificent energy behind the beloved songs, the spellbinding experience will captivate fans of all ages. FLASH Entertainment continues to increase its footprint across the region and bringing the first ever
Disney in Concert
to Lebanon underscores the live events company's commitment to regional expansion. Commenting on the announcement of Beirut being the location of the next
Disney in Concert: Frozen
show, John Lickrish, CEO of FLASH Entertainment, said, "As the region's premiere live events company, we have partnered with Disney to bring a special and unique show to Beirut.  The Abu Dhabi shows which will take place in February have met with resounding success and tickets are selling fast. We expect a similar uptake in Beirut as this is the first such event to take place in this lively city. Watch the award winning movie and experience the Lebanese Symphony Orchestra, a full choir and soloists as they bring Disney's
Frozen
movie musical soundtrack to life." Didier Vanneste, Senior Vice President and Country Head MENA at The Walt Disney Company, said: "We are delighted to bring
Disney in Concert: Frozen
to Lebanon as a new genre of entertainment. Art meets live performance in a truly magical experience. Music lovers and Disney fans across the region will be moved as they rediscover the music and colours of Disney's
Frozen
in a unique live performance." Grant Watmuff, Licensing & Strategic Partnerships Manager, Disney Music Group EMEA added "
Disney in Concert: Frozen
brings a genre defining movie and soundtrack to life and showcases the extraordinary song writing process of Bobby and Kirsten Lopez and the emotional resonance of Christophe Beck's original score.
Disney in Concert: Frozen
allows fans to engage with the film in an entirely new way and is a fantastic event for all the family. We're delighted that audiences in Beirut will be able to experience this unique event first hand." 30 musicians, 26 strings, 16 choir and 4 vocal soloists will usher in a new way of celebrating the worldwide Disney sensation; the perfect way to experience the adventures of Princesses Anna and Elsa. Disney's
Frozen,
which is based on the lives of two princess sisters, has been magically transformed into an exciting and enchanted live musical journey on its way to Lebanon. The show sees classic Disney entertainment seamlessly blended with the Lebanese Symphony Orchestra and aims to capture the audiences' imagination with extraordinary performances. Tickets to the show start at USD 44. For full details on all categories and to buy tickets visit
www.ihjoz.com
. Tickets also available at all branches of Malik's Bookshop, Khoury Home and LibanPost across Lebanon. "Presentation licensed by Disney Music Publishing and Buena Vista Concerts, a division of ABC inc. © All rights reserved"
Categories