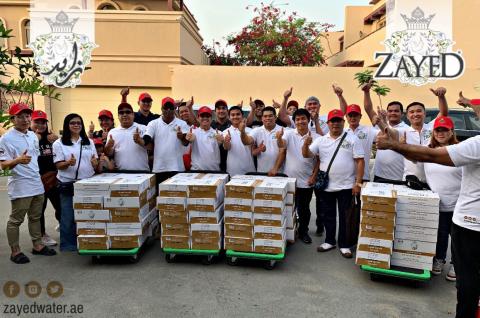 A UAE-established bottled water company dedicated to providing ethical, socially-responsible products across the Emirates has pledged to donate 100 per cent of proceeds from the sales of Zayed Water during Ramadan to the Emirates Red Crescent.
Be Kind, the collaborative platform aiming to establish charitable partnerships, launched in March 2018 during the Year of Zayed, is now launching its first product, Zayed Water, as part of its Ramadan initiative. Named after the late Sheikh Zayed bin Sultan Al Nahyan, Zayed Water aims to emulate the compassion, generosity and humanitarian values Sheikh Zayed instilled upon the nation, but at a community level.
Money raised will go towards Emirates Red Crescent projects, building wells in countries that suffer from water and sanitation issues, with projects across Africa as the first target.
Locally, Be Kind is partnering with the Al Ihsan Charity Association to donate over 70,000 bottles of Zayed Water to their annual Ramadan Aman campaign and over 50,000 to expatriate labourers during Iftars run by the Emirates Red Crescent at mosques across the emirates.
"Our inspiration behind the initiative is the concept that water gives life. As water is a readily available commodity so many of us take for granted, we often overlook the millions of people who don't have daily access clean to water. We identified an opportunity to combat the lack of water locally and globally, while giving back and providing health-conscious, low sodium water to UAE residents," explained Omar Abdulla Khalfan, Chief Kind Officer at Be Kind.
Discussing the partnership, Khalid Bin Tamim, Chairman of the Ramadan Aman campaign at Al Ihsan Charity Association said, "We are honoured and excited to bring Be Kind on board as a partner this year. Our vision to bring compassion, kindness and the spirit of giving to the community is very much aligned. Since we started the Ramadan Aman campaign in 2012 we have seen the outreach community grow each year and to join forces with a local initiative with the same values, we are able to spread our message of giving even further."
Be Kind also brings together ethically sourced and sustainable products and reputable charitable partners tackling health, humanitarian, sanitation and educational issues locally and globally.
Omar Abdulla Khalfan added: "Be Kind aims to be an example to the next generation by demonstrating how the choices we make as a consumer can have a positive impact on the wider community."
Zayed Water can be purchased online or via WhatsApp on +971547070706
Categories