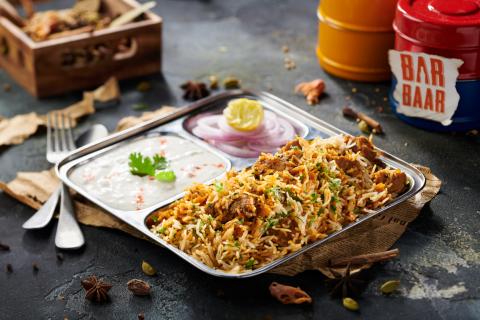 Capturing on the recent Bollywood's backstreet rapper movie – 'Gully Boy', it would be hard not to imagine strolling through the crowded streets of Mumbai without grabbing a 'Vada pav' or indulging in some lip-smacking 'Chicken Chilly' and relishing the Indian (Gully) Street Food.
India is one proud nation well renowned for giving hunger pangs through its wide varieties of scrumptious, quick and heap street food. And to ensure that you don't just reminisce the mouth-watering delights, Bar Baar, recently nominated for the 'Best Bar Food' at the Time out 2019 awards introduces the new street food menu 'Gully Boy'.
Promising to offer a vegetarian and non-vegetarian street-food paradise, the tantalizing delights in the 'Gully Boy menu' is certain to leave you drooling from its 'Bawa Chicken Puffs', 'Full Too Samosas', 'Bhai Ka Mutton Biryani' and 'Ek Dum Mast Momos'. It will be available every day of the week for lunch and dinner from 1:00 p.m onwards till 3:00 am starting from the range of AED 15 to AED 55 only.
"Garnering on the Gully Boy Fever, where Bollywood has made its first movie about rap music, we intend to take you on a delicious journey and give you the authenticity of Real India with the opportunity to taste the Indian (Gully) Street Food and introduce the spirit of Indian Hip Hop and Rap culture through the soul of our food". said Mr. Parvez Mhd - Managing Director of Bar Baar.
He further added, "Bringing in new Indian Hip Hop and RAP culture with Live performances from India's most talented, prominent and elite will be a new genre to Dubai - the city that never sleeps. Through the Indian (Gully) Street food which has originated from the streets, we want to introduce the raw feel of hip hop, evoke talent and inspire the millennials. We will also start a new venture of outdoor delivery 'Gully boy' by BarBaar to cater to our customers and ensure that Indian (Gully) Street food reaches every doorstep."
The new 'Gully Boy" menu offers all food-lovers an experience that will evoke memories, ignite the passion for Indian Rap culture, perfect to excite a smile on their faces and that certainly makes Bar Baar the best place to hang out and enjoy the company of good friends, food and drinks.
Categories