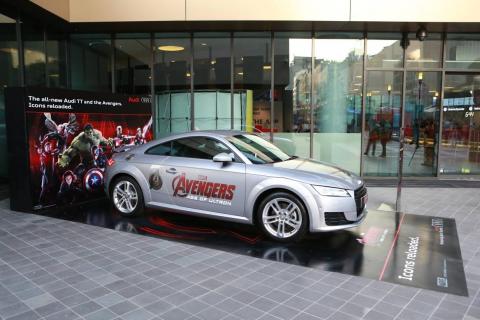 A Kettaneh pre-screening of Avengers: Age of Ultron
Audi continues partnership with Marvel Entertainment for release of Marvel's Avengers: Age of Ultron
Featured models include the all-new 2016 Audi R8, 2015 Audi TTS and 2015 Audi A3 Cabriolet
 Following the release of Avengers: Age of Ultron movie in the region, F. A Kettaneh, organised an exclusive pre-screening of the movie on April 29, 2015 at Cinemacity, Beirut souks. Loyal customers and media guests were the first to enjoy the powerful, innovative, fast and extraordinary features of both Audi cars and Avengers characters at this private and unique event.
Audi and Marvel Studios joined forces once again in the new Avengers: Age of Ultron cinema blockbuster. The highly-anticipated film featured the next-generation Audi R8, Audi TTS and Audi A3 Cabriolet vehicles alongside the next generation of Avengers characters. Audi returned in the latest Marvel's Avengers: Age of Ultron with a range of new and exciting Audi models driven by the earth's mightiest superheroes.
There have been eight years of successful partnerships with Marvel's Iron Man during which Audi vehicles have been prominently featured, including the Audi R8, R8 Spyder, R8 e-tron, A8L, S7 Sport back, S5 Coupe and the Audi Q7. For 2015, Audi once again aligns with the evolving character of Tony Stark and showcased the brand's cutting-edge technology and iconic design with the all-new redesigned 2nd generation Audi R8, the 3rd generation of Audi TTS and 2015 Audi A3 Cabriolet.
The Audi R8, which made its initial debut in Iron Man, returns as an even more powerful super car, while the iconic Audi TTS makes its big screen debut as a completely redesigned coupe.
Categories