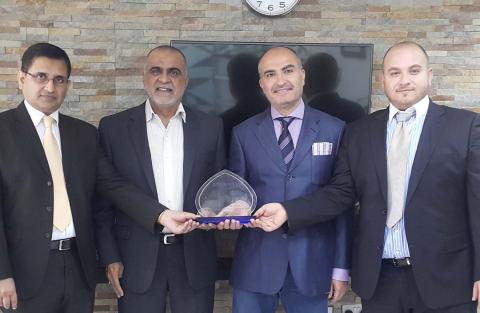 Leading hospitality consultancy firm recognized for its contribution of over AED 75 million in sales over the last four years
Al Basel Consultancy, a prestigious high-end consultancy firm and member of the Al Basel Group of Companies, recently received the 'Highest Seller of Bridge Suite' award from Atlantis, The Palm, a premiere Dubai luxury hotel located at the apex of the Palm Jumeirah in the UAE. The award was given in recognition of the company's exemplary performance and key contributions--resulting in driving in more than AED 75 million in sales over the last four years.
According to the company's senior executives, the award reflects the strength of the partnership between Al Basel Consultancy and Atlantis, The Palm. Under the terms of an earlier agreement signed by both parties, Al Basel Consultancy has been tasked with leveraging the luxury hotel's accommodations and facilities across the GCC's high-end nationals, residents and international tourists visiting the UAE. The company also renders essential consultancy services, advising the hotel on important issues like sponsorship, marketing, promotions and development. The Royal Bridge Suites are Atlantis, The Palm's crown jewel in its line of iconic signature suites. Standing at 924 square meters, the Royal Bridge Suite offers unrivalled panoramic views of the emirate while also affording guests with a private, exclusive and truly unique experience.
"We would like to thank Atlantis, The Palm for giving us this award, which truly reflects the strong partnership ties that Al Basel Consultancy has maintained with them over the last few years. Our commitment and extreme dedication has played a key factor to our success, resulting in contributing more than AED 75 million worth of sales for the hotel's hugely popular Royal Bridge Suites. This award will inspire us further into promoting the hotel across the rapidly growing global tourist market—strongly positioning Atlantis, The Palm as a highly preferred and widely recommended place of stay while visiting Dubai and the rest of the UAE," concluded Basel Al Kasem, Founder & CEO, Al Basel Consultancy.
Categories