Guests can now enjoy the Middle East's number 1 waterpark, The Lost Chambers Aquarium and Dolphin Bay for up to half the price off

To kick-start the month of February, residents and tourists alike can now enjoy access to Aquaventure Waterpark, The Lost Chambers Aquarium and Dolphin Bay for up to 50% off the online general admission price.
Available for purchase until 6th February 2018, those looking for a splashingly good time can avail the following discounts:
50% off at Aquaventure Waterpark – AED 138/ticket
50% off on Aquaventure Annual Pass – AED 495/ticket
50% off at The Lost Chambers Aquarium – AED 53/ticket
Up to 45% off Dolphin Encounter: AED 495/ticket
Up to 35% off Dolphin Adventure: AED 695/ticket
All discounts are only applicable on the general online admissions price and must be purchased online in advance and redeemed between 9th February to 22nd March 2018.
For Aquaventure Waterpark lovers, the Annual Pass 50% discount is a first-time-ever offer! For the price of less than 2 general admission tickets you can enjoy 365 days of unlimited access to the region's No. 1 water park, plus free valet parking, 25% off at water park restaurants, and 20% off for three of your accompanying friends.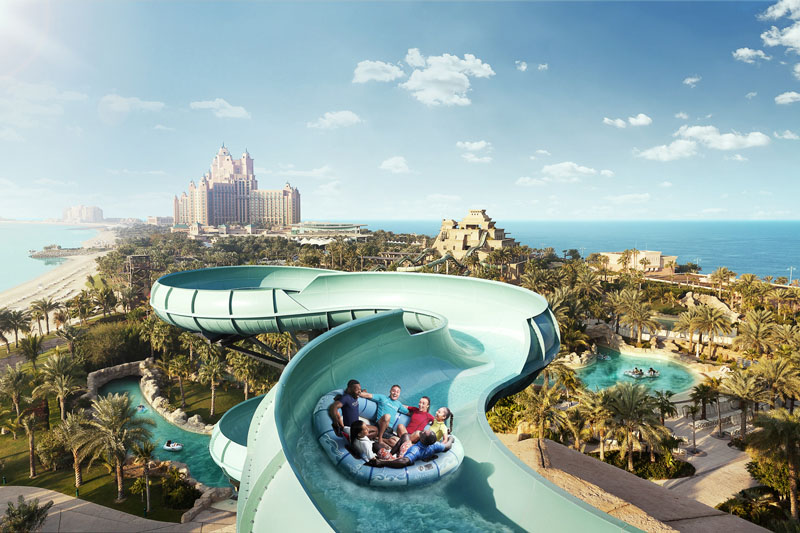 Situated on the apex of the Palm in Dubai, the award-winning waterpark is a firm favourite with celebrities, sports men and women and tourists from all over the world. Known for its terrifying and record breaking slides, Aquaventure is the only waterpark in The Middle East that offers marine animal experiences and is the only waterpark in Africa and the Middle East which has 700 metres of white sand beach. The Lost Chambers Aquarium takes guests on a journey to discover the mazes of underground tunnels and passageways, bringing them into close contact with the myth and the advanced inventions of the ancient Atlanteans. The 4.5 hectare Dolphin Bay is a state-of-the-art dolphin education centre and interaction habitat which was created to bring enlightenment and education to visitors about one of the oceans most fascinating and memorable inhabitants.
To take advantage of the discount, please visit www.aquaventurewaterpark.com or call +971 4 426 0000. The discount is not applicable on tickets purchased at the ticketing plaza.
Categories