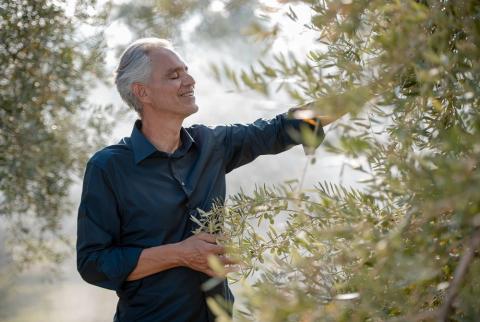 Ellie Goulding, Mohammed Abdu and Hussain Al Jassmi also among international and regional names lifting the curtain on the year's most-anticipated event.
Celebrated Italian tenor Andrea Bocelli is set to raise the roof at Expo 2020's Opening Ceremony at the iconic Al Wasl Plaza on 30 September, topping a glittering line-up of talent from across the planet.
Bocelli, who has sold more than 90 million records worldwide, will be joined by an array of global stars: British popstar Ellie Goulding, internationally acclaimed Chinese pianist Lang Lang, four-time Grammy winner Angelique Kidjo and Golden Globe-winning actress, singer and songwriter Andra Day.
Highlighting the creative diversity and talent of the region, the electrifying event will also feature Hussain Al Jassmi, Expo 2020 Dubai Ambassador and a trendsetter on the Khaleeji music scene; much-loved Emirati singing sensation Ahlam Al Shamsi; rising UAE singer Almas; the 'Artist of Arabs' Mohammed Abdu; and Grammy-nominated Lebanese-American singer-songwriter Mayssa Karaa.
Spectators will enjoy stunning visuals, music and performances as some of the world's most creative minds, internationally renowned artists and emerging talents come together in an unforgettable extravaganza of entertainment that will be shared with audiences around the world.
Bringing together talent from different geographies, industries and backgrounds, the Opening Ceremony is co-curated and co-produced by Franco Dragone, the creative director behind groundbreaking productions such as Cirque du Soleil and La Perle; and Scott Givens, President and CEO of FiveCurrents, the award-winning creators behind major live events including Olympic ceremonies and incredible New Year's Eve celebrations worldwide.
The awe-inspiring product of years of planning and preparation for Expo 2020, the Opening Ceremony will set the stage for 182 days of engrossing experiences and life-changing events, featuring the best of art, music, architecture, technology and culture from around the world.
 
Source: www.expo2020dubai.com