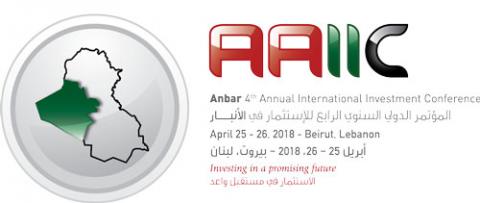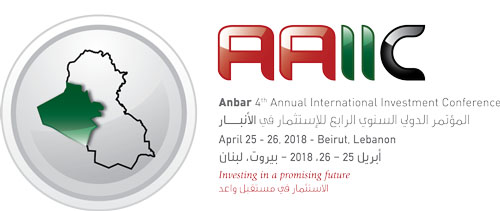 Under the patronage of H.E. the Governor of Anbar Mr. Mohamed Rikan Al-Halbousi, the Anbar Fourth Annual International Investment Conference (AAIIC 2018) will be held at Kempinski Summerland Hotel & Resort in Beirut, Lebanon on April 25 and 26, 2018 in collaboration with the Government of Anbar and Anbar Investment Commission.
The high profile two-day conference will bring together key government officials and major local, regional and international investment companies to take advantage of the wide array of investment opportunities spanning various sectors in Anbar, Iraq's largest province. The Government of Anbar will also present several key reconstruction projects coinciding with the commencement of reconstruction initiatives.
Anbar is a promising investment destination for domestic and foreign investors. It is the largest province in Iraq, making up one third of the country, and is in close proximity to the capital Baghdad. Anbar has border crossing with Saudi Arabia, Jordan and Syria. Anbar is also a resource–rich province with massive natural gas reserves and substantial quantities of untapped natural resources.
AAIIC 2018 will build on the success of previous conferences namely the Anbar 2nd and 3rd Investment Conferences held in 2011 and 2013 in the city of Istanbul and Erbil, respectively, and attended by 300 participants representing more than one hundred Iraqi and international companies. "This conference will attract local and foreign companies to encourage them to invest in Anbar," said Anbar Investment Commission Chairman Mahdi Al-Noman. "We will be presenting unique and mega investment opportunities during the conference and the support we are offering to investors and their projects."
To register to attend AAIIC 2018, please visit www.investanbar.com . For more information about the conference and for sponsorship opportunities, please contact Conference Director Muhannad Haimour at +964.772.291.9426 or muhannad.haimour@investanbar.com .
Categories