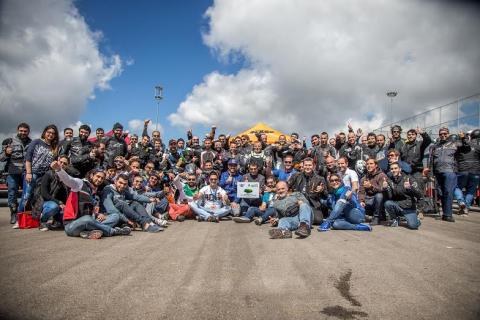 Held on the 4th, 5th and 6th of April 2015
Participants experienced first-hand the new KTM RC 390, Duke 390, KTM Super Adventure 1290, KTM Super Duke 1290, MotoGuzzi V7 Racer II and the Moto Guzzi California Custom 1400  motorcycles
- As part of its ongoing effort to promote fun and safe riding, ANB Motorcycles, the official distributor of KTM and Piaggio Group brands in Lebanon, organized a thrilling three-day test ride event on the 4th, 5th and 6th of April 2015 respectively.The event was held between 8:00 AM and 12:00 PM on each of the aforementioned days and took place on the picturesque Racing Park Mtein (RPM) circuit in the beautiful village of Mtein, which is located in Northern Matn- 33 kilometers from Beirut.
ANB Motorcycles' customers and media personnel were all invited to take part in the exciting event in which everyone got a taste of the new KTM RC 390 and Duke 390 motorcycles on the challenging racetrack. A number of professional riders were assisting the guests to ensure that they enjoy a safe riding experience; amateur and unseasoned riders were given accurate riding tips that enhanced their riding control and helped them enhance their skills. Moreover, participants were offered the chance to road test all of the ANB Motorcycles brands including various models from brands under the Piaggio Group such as Aprilia, Vespa and Moto Guzzi.
The three-day test ride event at the RPM circuit was one of many ANB Motorcycles events planned this  year that are aimed at reinforcing the motorcycle-riding image, in addition to promoting motorcycle-related motorsportsin the country – a feat that is not new to ANB Motorcycles who sponsored the Lebanese Motocross Championship in 2014.
Categories