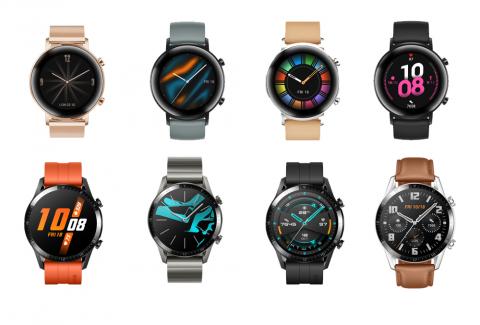 Huawei, a leader in the smartphone industry, has previously stunned consumers with its entry into the smart wearable market. Today, it's been nearly a year since we first discovered the Huawei Watch GT, a lifestyle-focused watch with an impressive battery life. And now, alongside the new Mate 30 lineup, Huawei once again made a statement with the launch of a follow up Huawei WATCH GT 2, delicately engineered for performance, luxury and style.
So far, reviews have been promising. Indeed, the WATCH GT 2 has been recognized globally as being both high-performant and luxurious: A true catch for people who look for convenience and quality but also care about trends and style.
Let's take a closer look at Huawei's newest innovation: There are eight versions of the Huawei WATCH GT 2, four 46mm devices and four of the more compact 42mm device; both models available in "Sport" and "Classic" versions.
What is unique about the WATCH GT 2 is that it's the first smartwatch to be powered by Huawei's in-house designed Kirin A1 chipset, providing users with an extremely efficient and powerful performance. The most impressive thing about the device is its extended battery life, lasting up to two whole weeks with one full charge.
Additionally, the watch features a huge amount of tracking capabilities including a remarkable heart rate monitoring technology, advanced work-out features, upgraded fitness tracker, proactive health management with sleep, stress and heart rate monitoring – An all-purpose watch, blending advanced technology with a classy and sophisticated design.
On top of the several upgrades, the Huawei Watch GT 2 has been optimized with improved Bluetooth connection and call functionality, allowing users to answer their calls via Bluetooth. Also, the watch allows users to enjoy an all-new music experience with a super high-capacity internal storage space, as well as the ability to pair Bluetooth headphones!
Now that we have explored some of the Huawei WATCH GT 2's impressive features, we can't help but wonder: Will it be available in the Lebanese market? And if yes, when can we expect it? We don't know about you but we're eager to find out more!
Categories