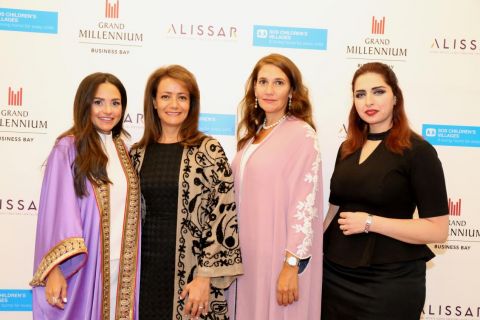 Alissar Mzayek, The CEO and the creative mind behind Alissar Holding, designed beautiful floral creations for the charity event which she also attended.
Alissar Flowers helped to create a memorable Ramadan event for the SOS Children's Villages at the Grand Millennium, Dubai, providing all the floral arrangements for a truly spectacular set-up.
SOS Children's Villages first started operating in Jordan in the 1980s, initially starting to support children, young people and families in the harbour town of Aqaba and in the northern city of Irbid. Today the organisation provides family-based care in Amman, Aqaba and Irbid, looking after children who cannot live with their parents, providing support for young adults to equip them with skills to live independently, helping with pre-school education, and also in setting up emergency programmes for refugees.
"The entire team at Alissar Holding is fully committed to lending our support to communities and organisations that we feel truly passionate about and SOS Children's Villages is one of these," says Alissar Mzayek. "We admire the work this dynamic charity is doing for vulnerable children and families in the region."
Alissar Flowers have been involved with numerous charities over the years, including supporting events and galas with their beautiful flower designs. As leaders in the luxury floral industry since launching in Jordan in 1979, Alissar Flowers have been helping to make meaningful memories for nearly 40 years.
Categories