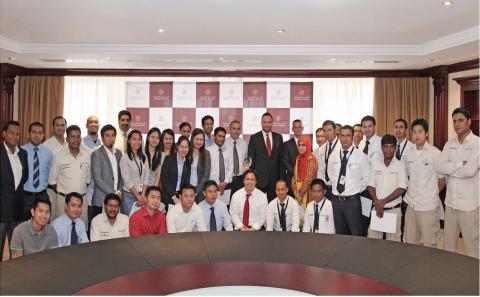 Company conducts similar trainings regularly to ensure its tenants' safety & well-being
August 12, 2014 - Alfardan Properties, in partnership with Qatar Red Crescent Society, a humanitarian organization that assists and empowers individuals and communities in need, has stepped up its strategic efforts to protect and promote the well-being of its residents by holding a series of first aid workshops for its employees. The main objective of the workshops organized by the Alfardan Properties Safety and Security Department was to train all staff across divisions on how to administer effective first aid during emergency situations. More than 70 employees were divided into five batches to attend the sessions spread out from June 30 to July 10.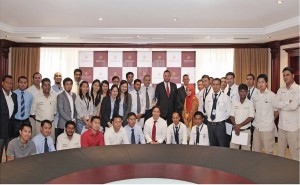 Mohamad Sleiman, General Manager, Alfardan Properties, said: "We organized the workshops in partnership with Qatar Red Crescent, whose training methods meet international standards, to provide our employees with valuable first aid knowledge and the confidence to take immediate actions during emergency situations. Following the sessions, we are positive that our staff are now able to offer vital assistance to our residents. This initiative was part of our overall commitment to always ensure the well-being of our tenants, visitors, and staff as well as meet the highest health and safety standards. Rest assured that Alfardan Properties will continuously hold similar events in the future to guarantee a safe and healthy environment across our residential communities."
During the workshops, instructor Mohammed Reda provided an interactive learning environment to discuss life-threatening incidents and demonstrate the proper way to respond to emergencies. He specifically highlighted the basics of effective first aid that are crucial during medical situations such as heart attack, respiratory failure, burns, fractures, musculoskeletal injuries, poisoning, and heat stroke. The participants also learned comprehensive safety measures in a bid to prevent any untoward incident from happening in the company's various residential communities.
Alfardan Properties has dominated Qatar's premium and luxury property segment for the past 20 years, and is recognized as a brand which defines luxury and excellence. The company has been behind several iconic landmarks in Qatar such as Alfardan Towers, Al Gassar Resort, One Porto Arabia & Alfardan Gardens, among others.
Categories