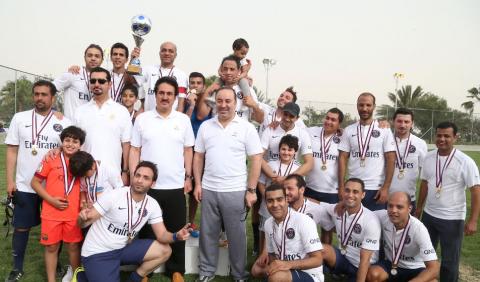 Over 1,000 employees demonstrate team spirit, dedication & excellence during celebration
February 10, 2015,
In support of Qatar's yearly National Sports Day, Alfardan Group of Companies held its Sports Day event at the Al Shefallahiya Oasis on Tuesday, February 10, 2015, as part of its celebration of Qatar's National Sports Day. The sporting event attracted over 1,000 employees across various business units this year, reflecting the Group's support for nationwide efforts to strategically position the country as one of the world's premier sports hubs.

The Group's employees played in different competitions, while friends and family sat eagerly watching individual and team finalists compete in their respective divisions. The finalists competed in games such as football, basketball, volleyball, badminton, tennis, table tennis, and cricket. Prior to the main event, competing teams and players battled it out as individual and team finalists faced each other in their respective divisions during the final rounds at Al Shefallahiya Oasis; as the cheerleaders kept the audience on their feet with their routines and dance numbers during the cheer dance competition.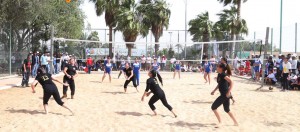 Recreational activities for people of all ages were also lined-up for the employees and their families this year, set-up in the venue for the enjoyment of adults and children alike; influencing physical activities and exercise to the fullest. Ali Alfardan, Vice Chairman, Alfardan Group, said: "Alfardan Sports Day was a big success, with all our employees and their families enjoying the sporting matches and the host of activities we lined up for them. A group of management staff and employees were actively involved in the preparations of the games to ensure an excellent outcome. This is our reaffirmation of our commitment to the pioneering initiative of H.H. Sheikh Tamim bin Hamad Al-Thani, Emir of the State of Qatar, to celebrate National Sports Day yearly across Qatar in a bid to create a healthier society for people of all ages, genders and nationalities. Sports engagement among Qatari citizens and residents is one solid initiative to attain our leaders' goal of promoting overall wellness.  Alfardan Group has consistently shown in the past its commitment to this endeavor and we will strive more to attain the objective by promoting a culture of healthy living within our organization." On December 6, 2011, H.H. Sheikh Tamim bin Hamad Al-Thani, Emir of the State of Qatar, issued Emiri Decree No. 80 for the year 2011 declaring every second Tuesday of February as National Sports Day across the country. This made Qatar one of the few states in the world to dedicate a nationwide Day of Sports. Omar Alfardan, President and CEO, Alfardan Group, said: "One of the three main goals of Qatar National Vision 2030's human development pillar is to ensure a healthy population to sustain society's prosperity. In Qatar's march towards the realization of this vision, the country's leadership encourages all its citizens and residents to actively engage in physical activities such as sports to achieve and maintain their overall wellness. The annual celebration of National Sports Day is a reflection of the country's commitment to the objectives enshrined in the human development pillar. At Alfardan Group, we demonstrate our unwavering support to H.H. Sheikh Tamim bin Hamad Al-Thani, Emir of the State of Qatar's decree by integrating the principles of National Sports Day into our Corporate Social Responsibility agenda." "We organized this year our own Sports Day at Alfardan Group's (Al Shefallahiya Oasis), to inspire our employees to adopt a healthy lifestyle and make it a habit to prioritize their well-being. Our fully committed management and employees were involved in the preparations of our internal Sports Day. Encouraged by the continuous success of our program, we will remain proactively engaged in such initiatives as we increase the sporting activity program year by year," he added. National Sports Day serves as an opportunity for employees across Alfardan Group's various business units to foster cooperation, team spirit, dedication, and excellence – all of which can positively impact their work performance and their overall outlook in life.
Categories