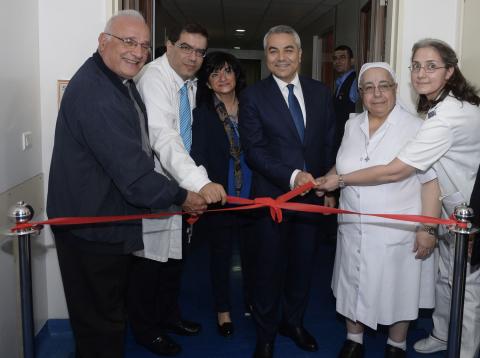 Under the patronage of Telecommunications Minister Boutros Harb. Alfa, managed by Orascom Telecom, inaugurated the visually and graphically rehabilitated Psychiatric service at Hotel Dieu, a project that took place  as part of the "Alfa 4-Life CSR" program, in collaboration with the Hospital administration and the Francophone Association for Mental Illnesses (AFMM).
The event was attended by Alfa CEO and Chairman Marwan Hayek, Hotel Dieu president Father Joseph Nassar, the head of the Francophone Association for Mental Illnesses (AFMM) and head of the psychiatric ward at Hotel Dieu, Dr. Sami Richa, members from Alfa's administration and media.
Moukarzel In her speech, the President of the Graphic Designers Union in Lebanon Mrs. Rita Moukarzel noted that "This project turned the Hotel Dieu psychiatric ward into a visual museum and an environment that fosters patient treatment according to psychiatric care standards". She added that "one of the project's main challenges was to select images that are in no way harmful to patients and do not suggest aggressiveness".
Richa For his part, Dr. Richa began his speech by thanking Alfa "profusely for its full support to this great project". He said: "Your contribution brings a sense of well-being and brightness to our patients and therapists in the psychiatry ward thanks to these joyful images in every corner. You have participated in providing another type of treatment in addition to our medical treatments, which undoubtedly highly contributes to the positive evolution of the patients' condition". He also thanked Father Nassar "who believed in us from the beginning, and who offers unconditional support to all the psychiatry ward projects at Hotel Dieu. Without this support, the psychiatry ward would not have seen the light or thrived to this extent".
Father Nassar
In his speech, Father Nassar said: "Through this project, we can glimpse the beginnings of hope and life amid the increasingly grim socio-economic and political reality. The presence of actors from the public sector and major actors from the private sector (Orascom) is further a testimony to the importance of integration between the two sectors and the importance of the ensuing actions". He spoke about the services provided by the psychiatry ward, which is part of a distinguished social institution representing a legacy that goes back to more than 140 years. Father Nassar pointed out that this ward was newly established according to high standards, and its development represented a challenge to the institution. He added that this ward is part of the hospital's medical services that can be considered a model to follow. He also said: "We are truly glad because civil society includes actors who care about humans. By adopting the graphic arts rehabilitation of the psychiatry ward, Orascom Telecom, which manages Alfa, contributes to emphasize the attention given to patients. Communicating through images can be a patient's source of inspiration, courage, motivation, and new horizons".
He thanked the management of Alfa, managed by Orascom Telecom, which has adopted this project, which is aimed first and foremost to the service of man.
Hayek The was the speech of Mr. Hayek who stated that "Life has put us in presence of a category of people who need special and exceptional care. We gather this event today under the umbrella of our Alfa 4-Life CSR program, which is the seed that was planted in 2006 and has grown into a large tree through which we support many institutions and associations that need support and care, especially from the private sector". He added: "Our support includes various initiatives, from sports to art and culture, the most important being our support to associations that deal with persons with special needs".
Hayek also pointed out that "mental illness is widespread worldwide. According to the latest World Health Organization (WHO) figures, approximately 450 million people in the world suffer from mental disorders. In Lebanon, according to official statistics, 10% of the Lebanese people suffer from mental illnesses, but in fact this number may be much bigger". He thanked all those who contributed to the success of this project, praising the "excellent palpable end result that speaks for itself and that is the product of the efforts of all who contributed and worked on this project".
Hayek stated that Alfa has accompanied many associations since 2006 through its Alfa 4-Life program, explaining, "We have allocated about two million dollars in the previous years to the support of these associations and CSR projects. Thanks to this material contribution, these associations have provided treatments and services to 1,500 people in need of support and medical care". He pointed out that "Alfa subscribers have also raised around 650 thousand dollars through SMS donation campaigns we launched in support of these NGOs".
He added that "these initiatives come in the context of our community and humanitarian role that integrates with our role as a leading telecommunications operator".
He concluded: "Father Nassar has expressed his delight at the presence of people who care about other human beings. Human beings are at the center of everything we do in Orascom and Alfa, and we hope that this cooperation between Alfa and Hotel Dieu Hospital will continue for the good of man and society".
Categories