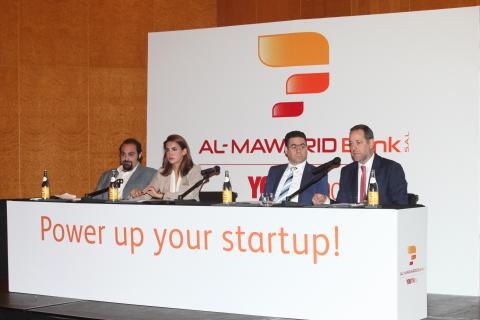 Beirut, June 12th, 2014: In line with its plan to support the economy, AL-MAWARID Bank held a press conference at the Four Seasons Hotel on Thursday June 12th 2014, to announce the first pilot project in Lebanon under Circular 331 put forth by Banque du Liban, and which aims to encourage banks to invest in startups in the knowledge economy sector. This initiative is part of the bank's CSR program titled "YOUTHinc." which supports entrepreneurs.
The press conference was attended by Chairman-General Manager of AL-MAWARID Bank H.E. Mr. Marwan Kheireddine, H.E. Mr. Nicolas Sehnaoui, the Director of the Executive Office at Banque du Liban, Mrs. Marianna Hoayek, Presella's representative, Mr. Walid Singer, as well as a large number of entrepreneurs, fund managers, and journalists.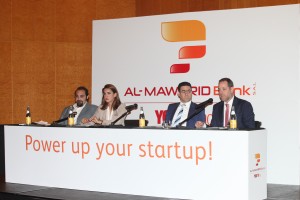 Commenting on the occasion, H.E. Mr. Marwan Kheireddine said: "We are very proud to be the first bank to launch the pilot project under Circular 331, as it sets a precedent in the ecosystem of entrepreneurs and the evolution of banks as a whole. We are determined to effectively contribute to the Lebanese economy, support the young generation and stimulate the establishment of startup companies, as they are the backbone of the economy and the main creators of jobs, all of which will positively limit and reverse the current brain drain that Lebanon is facing. When these young minds have a solid platform and the appropriate support, they would be able to play and compete on a global level." He added: "We are confident that our investment in Presella will be a successful one which will generate employment opportunities, and we only hope other banks will be encouraged to follow suit."
He concluded: "Investing in Presella will not be our last, as we plan to further invest in startups and investment funds in the digital sector," hoping that "this step forms a successful and solid relationship between banks and startups, filled with positivity for the youth and the economy alike."
H.E. Mr. Nicolas Sehnaoui declared: "Circular 331 paves the way for Lebanon to become the Silicon Valley of the Middle East one day, which means the cease of the brain drain effect of the Lebanese youth."
Speaking next was Mrs. Marianne Hoayek who concurred saying: "The goal of Circular 331 as published by BDL is to create a new sector in Lebanon, the knowledge economy, as the Bank strongly believes in Lebanon's human resources and is a firm believer that the creative brains can succeed in the fields of communication and technologies if the opportunities are given to them."
In turn, Mr. Walid Singer of Presella said: "AL-MAWARID Bank's confidence in us and our resources, and its faith in our vision has given us hope and motivation to hold on to our project which we are looking forward to improve well beyond our users' expectations. Presella looks to provide digital service that will facilitate the lives of users by offering them a wide range of cultural and social events and entertainment in addition to selling tickets on a safe online platform."
YOUTHinc. falls within AL-MAWARID Bank's CSR initiative under Circular 331. This initiative provides support for young entrepreneurs in the knowledge economy sector, in order to encourage them to stay in Lebanon and make as much use as possible of their talents and expertise to establish small and medium enterprises, expand them in the near future, which would create job opportunities and help boost the economy and contribute to the total GDP.
The initiative has already conducted activities in collaboration with a number of investment funds, projects, and organizations, all aimed at improving youth employment in the hope of boosting the economy, namely Endeavor Lebanon and Berytech, AltCity and Alice.
Categories