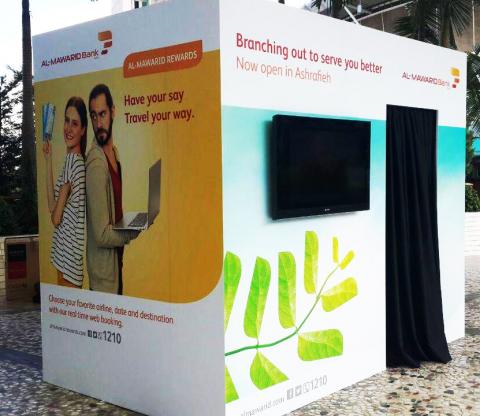 Beirut, October, 2014: As part of its inclusive expansion plan in the country, AL-MAWARID Bank S.A.L has opened its new Ashrafieh branch to extend its high-quality products and services to its clientele noting the strategic location of Sassine Square in this area.
Unlike any other branch opening in Lebanon and in the framework of its innovative marketing strategy, AL-MAWARID Bank S.A.L launched a booth in ABC Mall Ashrafieh, providing an original must-try experience. Visitors will virtually walk or jog from ABC to the new AL-MAWARID Bank branch on Sassine square and discover the wide range of financial services the bank offers. Additionally visitors will have the chance to take part in an exclusive competition, allowing them to win valuable prizes such as the Bank's one-of-a-kind reloadable prepaid card "My Choice".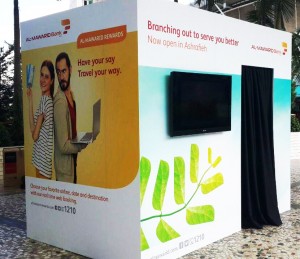 "We are very enthusiastic to open in the heart of Ashrafieh to provide first-class products and banking services that meet the customers' evolving needs in this neighborhood. As our values are based on integrity and customer focus, we will work to ensure a trustworthy and transparent relationship with our clients" said Mrs. Rana Wazen Freiha, Ashrafieh branch manager.
AL-MAWARID Bank S.A.L. has always been locating its branch network to be instrumental in expanding customer base and cater to all regions. Now the Bank's network covers most major cities and residential areas all over Lebanon.
AL-MAWARID Bank S.A.L. is a leading Lebanese commercial bank focused on providing customers with personalized assistance and high quality products. The Bank's commitment to customers is reflected in an unlimited drive to improve its services and introduce new innovative products. In addition to the added value services that the bank offers such as accounts management, financial loans flexibility and wide range of cards, AL-MAWARID Bank S.A.L. gives you today more benefits with its new rewards program that offers loyal cardholders the advantage of earning points for every dollar they spend on purchases using their AL-MAWARID Bank credit cards.
For more information please contact our new branch on: + 961 1 333673 - + 961 76 183346 or 1210 from any local phone and website, Facebook and Twitter pages.
Categories