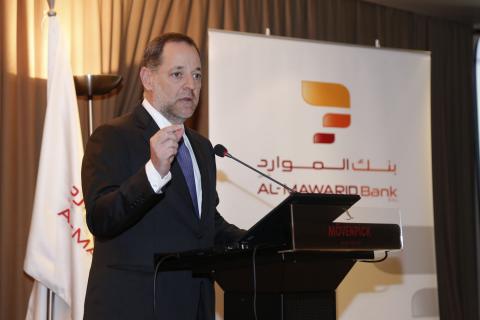 During its annual lunch gathering
AL-MAWARID Bank reveals its 2016 business strategy
Celebrating its success and progress, AL-MAWARID Bank held its annual lunch at Movenpick Hotel in Beirut, gathering the Bank's Chairman – General Manager, Mr. Marwan Kheireddine, the board of directors, top management and employees.
AL-MAWARID Bank's annual lunch has become a tradition that all members look forward to, honoring the team's efforts and announcing major news regarding future ambitious plans.
Highlighting AL-MAWARID Bank's main achievements of 2015 and revealing 2016's strategy, Mr. Kheireddine recognized the efforts of the team members by distributing achievement awards, expressing sincere appreciation for the level of commitment and resilience shown throughout the year. The team's efforts have contributed in registering a significant growth amongst the Bank's key indicators.
Further commenting on 2016's business strategy, Mr. Kheireddine said the Bank is set to activate its resources at all levels in order to provide innovative products that meet the evolving needs of its customers throughout all stages of their lives.
Mr. Kheireddine also emphasized AL-MAWARID Bank's contribution to several social activities, which proves its commitment to support all segments of society, especially the youth. He reinforced the Bank's position as the first bank in Lebanon to support start-ups through YOUTHinc, an initiative launched by the Bank aiming at investing in emerging start-ups to develop the knowledge economy under BDL circular 331.
To remain close to its clientele, AL-MAWARID Bank is set to inaugurate a new branch in Antelias, a landmark in the area, due to its prime location, modern branding and visitor parking facility.
Categories