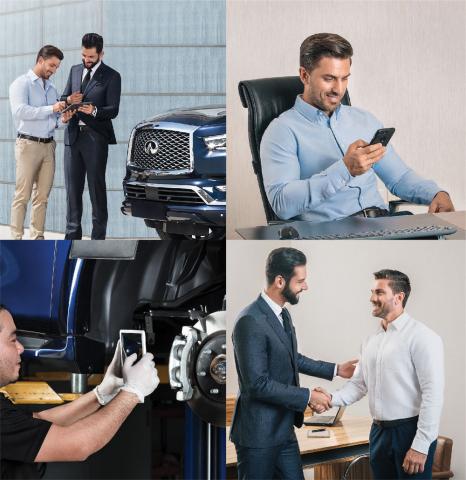 Abu Dhabi car owners first to benefit from a range of services through advanced digital technologies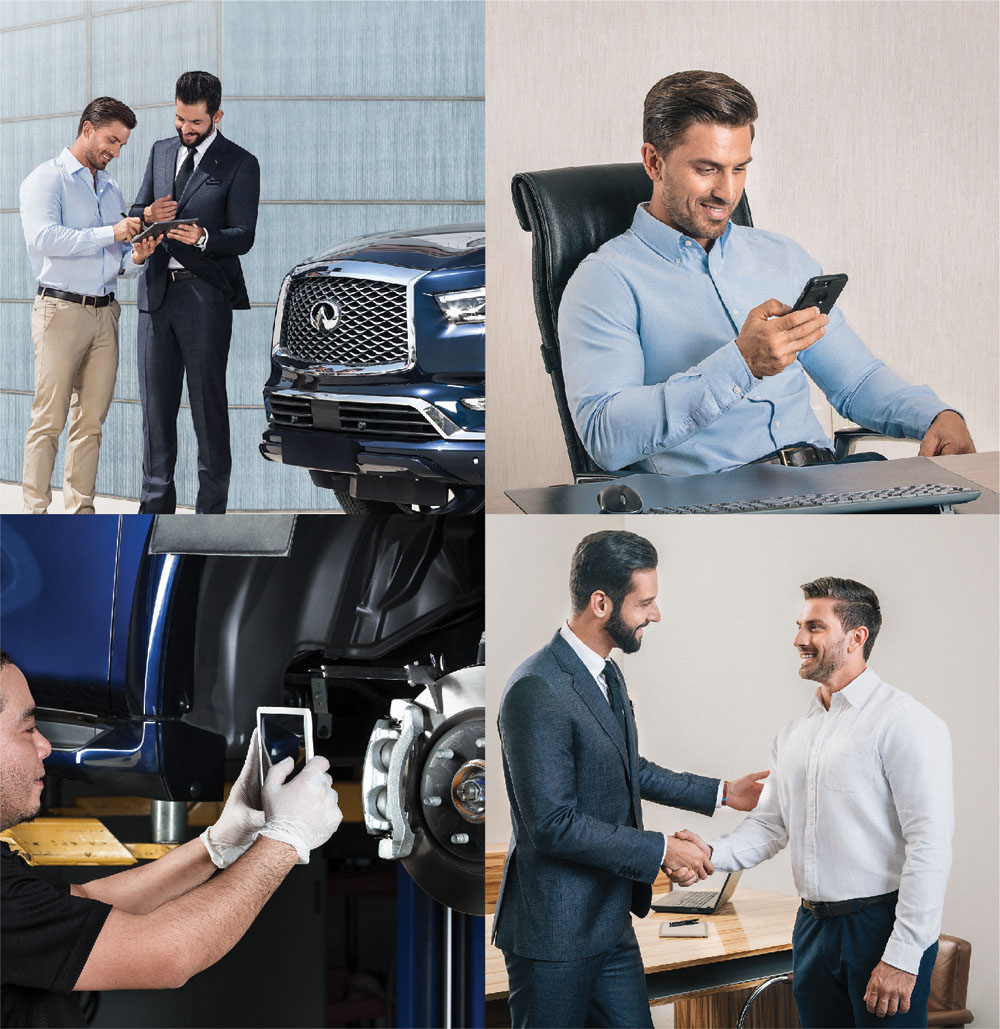 Al Masaood Automobiles announced that INFINITI car owners in Abu Dhabi will be among the first customers globally to take benefit from a range of highly-advanced services of INFINITI's exclusive 'MyINFINITI' car servicing program and experience convenience in getting premium after sales services. Al Masaood Automobiles is piloting the new program in line with the brand's global retention program aimed at providing unified standards for INFINITI car servicing worldwide to facilitate and enhance customers' experience using advanced digital technologies.
Among the 'MyINFINITI' program services include the 'Service Pick-up Everywhere' which enables owners to request pick up and return online or through the call center for a nominal fee. Customers also receive updated status of the car's servicing process through SMS notifications from appointment booking, car check-in, completion of technical inspection to overall servicing results.
Irfan Tansel, CEO, Al Masaood Automobiles, said: "Al Masaood Automobiles is always keen to provide an exceptional customer experience based on the highest standards of quality that fall in line with the Abu Dhabi Government's customer happiness formula. MyINFINITI program is a part of our continuous efforts to advance our services through innovative technologies that enhance our customer convenience, satisfaction and happiness. Technology has massively transformed the automotive sector and INFINITI is on par with the latest trends in terms of digital functionality. In line with this, we extend these capabilities to after-sales servicing to further elevate the level of experience of loyal customers through the program and enjoy a host of comfort that further enhances their lifestyles. The range of services are intended to make life easier while also rewarding."
Another advanced facility provided by 'MyINFINITI' program is the 'E-Vision' vehicle health check service where the car will undergo full inspection using a tablet installed with a VHC software. The software identifies and records all the types of repair work to be done and documents it with relevant pictures of the parts or components that need fixing, description of the problem or issue, and price quotation which is then sent to the customer via email. The customer has the option to approve the work to be done by just responding to the report without the need to call the consultant or visit the service center. The program also offers a loyalty program which rewards customers with a range of incentives including extended warranty for the sixth and seventh year or a discounted service contract of up to 30 per cent reduction.
For four decades, Al Masaood Automobiles has established a longstanding partnership with INFINITI with a highly-diversified business portfolio. It offers a complete line up of the most luxurious as well as the most economical passenger and commercial vehicles in Abu Dhabi and Al Ain. Recently, INFINITI honored Al Masaood Automobiles' outstanding performance with 'The Highest Growth Across I/MEA Market' award.
---
About INFINITI:
INFINITI Motor Company Ltd. is headquartered in Hong Kong with sales operations in over 50 countries. The INFINITI brand was launched in 1989. Its range of premium automobiles is currently built in manufacturing facilities in Japan, the United States, United Kingdom and China.  INFINITI plans to also expand manufacturing into Mexico by 2017.
INFINITI design studios are located in Atsugi-Shi, near Yokohama, London, San Diego and Beijing. INFINITI is in the middle of a major product offensive.  The brand has been widely acclaimed for its iconic design and innovative driver-assistance technologies.
More information about INFINITI and its industry leading technologies can be found at www.infiniti-abudhabi.com, You can also follow us on Facebook, Twitter, Instagram, LinkedIn and see all our latest videos on YouTube.
About Al Masaood Automobiles
Al Masaood Automobiles – authorized distributor of Nissan, INFINITI and Renault vehicles in the Emirates of Abu Dhabi for nearly four decades, brings to its customers a complete range of the most reliable 4 x 4, luxury, passenger and commercial vehicles, efficiently catering to a large and diverse number of individual, fleet and Government users. Al Masaood Automobiles extensive network coverage includes 8 showrooms in Abu Dhabi, Al Ain and the western region – including the flagship showroom complex at Musaffah with dedicated new vehicle delivery center; 6 Service Centers and 7 Spare Parts outlets. Al Masaood Automobiles enhances its success through strong tie-up with leading banks, offering to its customers easy finance solutions and facilitating purchase process with insurance, finance and accessories under one roof.
For more information about our products, services and commitment to sustainable mobility, visit www.masaood.com, You can also follow us on Instagram, Twitter and LinkedIn.
Categories