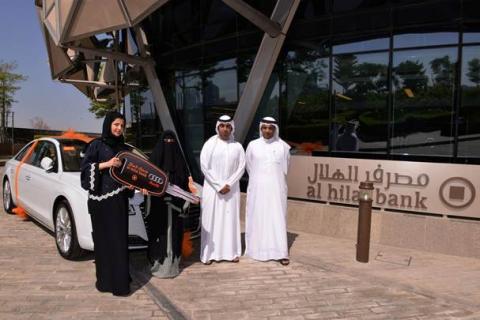 Three more luxury sedans to be given away under annual Savings Promotion
October 29, 2014 - Al Hilal Bank, the progressive Islamic bank, has turned over the third of six 2015 Audi A8 luxury sedans it is handing over under its annual Savings Promotion extending from July 15, 2014 to January 15, 2015. Mariam Ahli, Head of Corporate Communication at Al Hilal Bank, gave September winner Ms. Hana Naser Al Kindi the keys to her brand new car during special rites held recently at Al Hilal Bank's Al Bahr Towers headquarters in Abu Dhabi.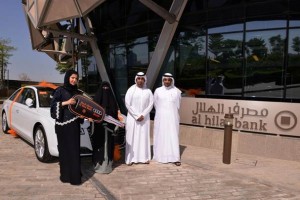 "We have three more fortunate customers to gift with the car of their dreams. We are always excited to see the winners rewarded for their efforts to save for their future. These kinds of promotions enable us to connect with our patrons, express our gratitude for their loyalty and support, and encourage them to foster good financial habits," said, Mohamed Jamil Berro, Group CEO, Al Hilal Bank.
The first two sedans under Al Hilal Bank's ongoing savings promotion were handed over in mid-August and September this year. A maintaining savings account balance of at least AED 5,000 until January 15, 2015 is required to make an Al Hilal Bank customer eligible for the prize.
About Al Hilal Bank:
Al Hilal Bank was established in June 2008 with an authorized capital of AED 4 billion and is fully owned by the Abu Dhabi Investment Council, the investment arm of the Government of Abu Dhabi. The bank is Shariah compliant and operates through a network of 22 branches strategically located across the United Arab Emirates as well as 3 other branches in major cities of Kazakhstan. Al Hilal Bank aims to become the leading financial institution in the region and is committed to increase the growth of Islamic banking by providing new direction, new technologies and special services.
For more information:
Al Hilal Bank
Email:myahli@alhilalbank.ae
Categories