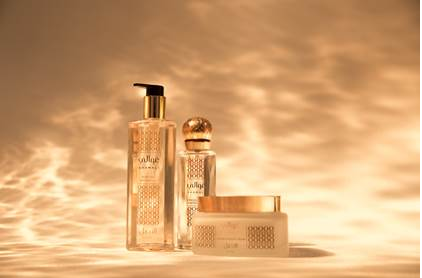 Paying tribute to the legacy of Arabic perfumery, Al Asel is the newest scent launch from renowned fragrance house Ghawali. Creating this collection was a unique process.
Al Asel means from the roots and is a uniquely artisanal fine blend that brings a new addition to Ghawali's signature scents. This highly captivating aroma exposes a new and unexplored dimension to the traditionally coveted leather notes, by adding a warm depth amongst the smoky woods of the Agar. With touches of almonds and saffron, Al Asel evolved into a gourmand facet fragrance. From spiced oud perfumes to dokhouns and intense oils in rich browns, accented with golden details, this captivating blend is ideal for all special occasions.
The many layers of Al Asel leave a warm and woody trail on the skin, starting with the collection's enchanting body oils that nourish the hair and body with sunflower oil, vitamin E and Argan oil extracts. Pamper yourself with the rich range of heady scented shower gels, that purify and soften with their moisturizing glycerin and aloe vera ingredients. Embodying the experience, Al Asel's body creams are infused with sesame oil and rich shea butter, ideally concentrated for everyday use.
Adding another layer of luxury, the intricate collection of perfume awakens your senses with sandalwood and sought-after notes of leather. Bringing together a beautifully crafted perfume as well as a concentrated parfum for a more intense and longer lasting wear.
Drawing on this region's vast heritage, Bokhour rituals are the definitive tradition for offering olfactory ambiance in any home or gathering. Al Asel Dokhoun is made of Indian oud powder, molded and imbued with the fragrance. Enhancing the aroma of these oud's is the Ghawali Mabkhara, which is a beautiful addition to any home with its unique and contemporary design.
Categories