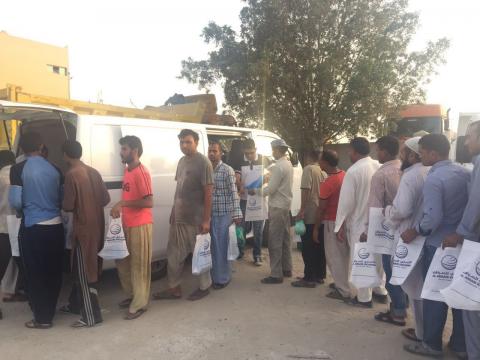 Feeding program falls in line with company's active CSR initiatives for the Holy Month of Ramadan
Al Ansari Exchange, the UAE-based foreign exchange and worldwide money transfer company, has distributed over 7,000 packed Iftar meals to the less fortunate throughout the UAE during the Holy Month of Ramadan. This feeding program is an essential component of the company's annual Corporate Social Responsibility (CSR) program.
Al Ansari Exchange has allocated a special committee among its staff members who volunteered to distribute meal packets in labor camps across all seven emirates of the UAE, throughout Ramadan. The team were tasked with implementing the highest levels of hygiene and safety standards as they distribute the meals in sites across the country, which has been especially chosen to target those who are impoverished.
"We, at Al Ansari Exchange, are especially committed towards programs and initiatives that will help enhance the mental, physical, and spiritual well-being of members of our society. In the spirit of Ramadan, we wanted to direct our assistance to the less fortunate individuals by providing them with nourishment. The campaign was carried out by our own staff volunteers, as they do every year, and covered the seven emirates of the UAE" concluded Rashed Ali Al Ansari, General Manager of Al Ansari Exchange."
Categories