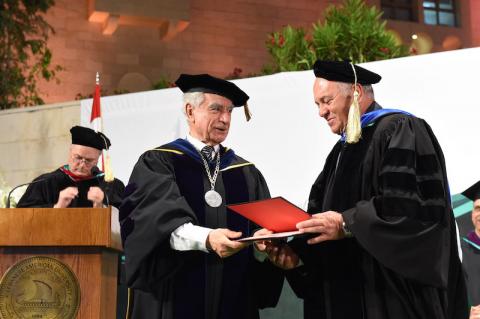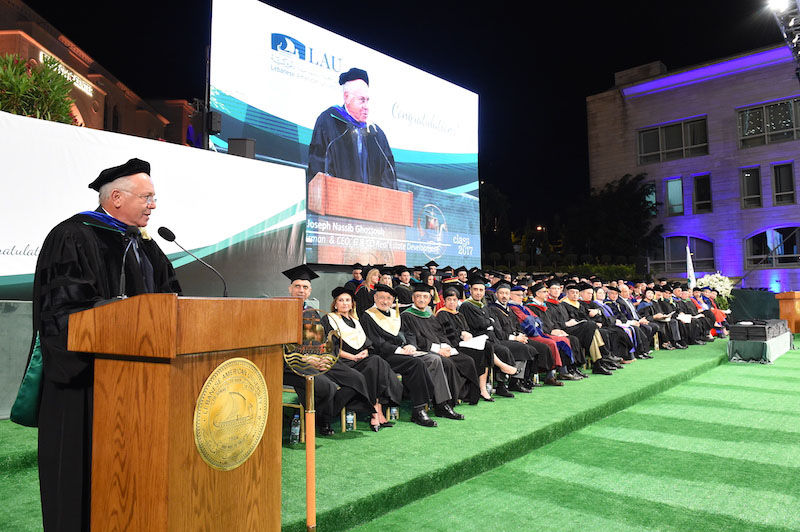 In appreciation for his invaluable contributions to the media and real estate scenes in the region, leaving a pioneering mark in the business and entrepreneurship world as a whole, LAU's governing board decided to grant an honorary Doctoral degree to Mr. Joseph Ghossoub, who has been a leading figure in real estate investment and the media sector for decades. Ghossoub is known for his shining accomplishments that gave a substantial boost to the vital industries he excelled in. With his special achievements, he succeeded in furthering Lebanon's global standing, thanks to his charismatic leadership, positioning him as a central figure, who established innovative practices in various economic sectors, inspiring already generations of entrepreneurs and business leaders.
Granting Mr. Ghossoub a PhD degree in Humanities, comes as part of LAU's honoring of key personalities who had an important role in supporting economic and media industries' development and establishing pillars of sustainable growth. The honoring ceremony will take place with the LAU diplomas' distribution event on June 6th at the university's campus in Byblos.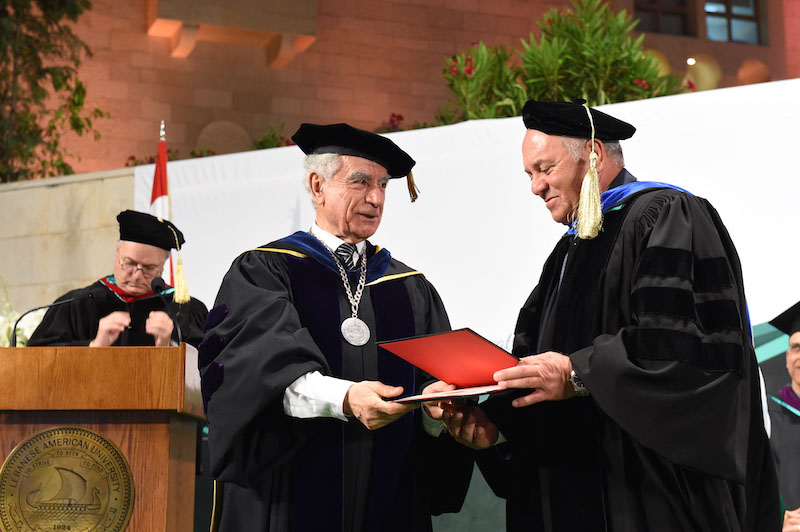 Joseph Ghossoub appeared in the limelight since he started leading the development of advertising and media practices in Lebanon and the MENA region. These initiatives earned him the respect and trust of inspired industry leaders and governments across the region, In this sense, Ghossoub succeeded in proving the potential of Lebanese minds in growing emerging knowledge-based  sectors, and their ability to create new opportunities that are now the engine of economy in the region.
 Currently, Mr. Ghossoub presides over G&Co Real Estate Development, which has a 2-billion-dollar project portfolio covering the GCC and Lebanon, He has succeeded through his vast experience in real estate, to bring a new business dynamism to this industry. Ghossoub has led for more than 21 years MENACOM Holding, to be the foremost and unrivaled communications group in the Arab World. The former head of MENACOM had a key role in the group's astounding accomplishments, where it reached the highest levels of creativity and professionalism, earning Ghossoub the title of "Advertising Godfather" in the Middle East. He was World President of IAA until 2008 and was appointed on the board of Dubai Media Corporation starting 2007.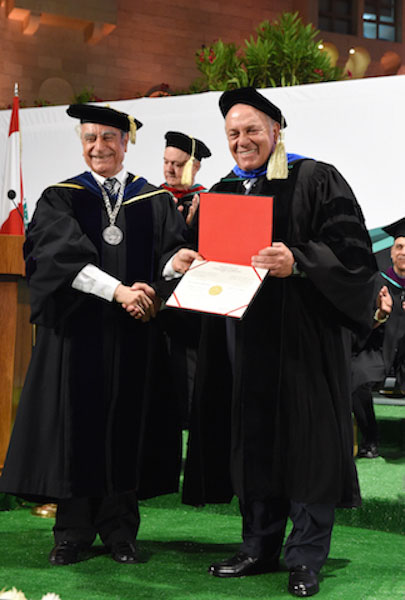 Mr. Ghossoub won the highest accolades, ranking amongst the most influential Arabs on many prestigious publications. On the national level, he earned the highest honorary decorations, namely the Knight of the Order of Cedar and the Pontifical Order of Knighthood.
Joseph Ghossoub has his rich legacy as well in the academic, social and environmental fields; He established the Emirati-Lebanese Friendship Association and presided over the Lebanese Business Council in Dubai for several fruitful mandates and is member of board of the American University of Dubai, while being an active member on the board of the Arab Forum for Environment and Growth.
Categories