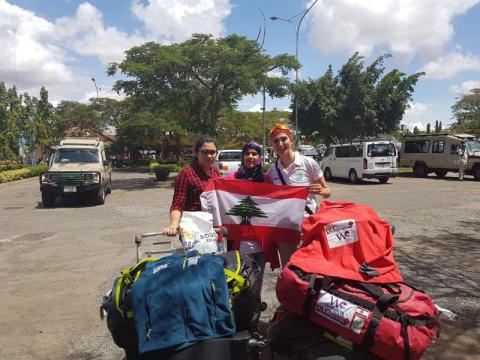 Joyce Azzam eyes to conquer Mt. Kilimanjaro's summit in Africa
 Beirut, 5th of April, 2017: After her success in reaching the top of Cerro Aconcagua (6,962 meters), considered the highest summit in South Africa, Joyce Azzam, the famous female Lebanese mountaineer is gearing up to mark yet another achievement in her career. In this line, Joyce is finalizing her preparations with a group of three young girls aged between 13 and 16 years old: Ghaydaa, Layan and Rawan Dakik from Hariss in South Lebanon to climb the Kilimanjaro Mountain in Tanzania (5,883 meters).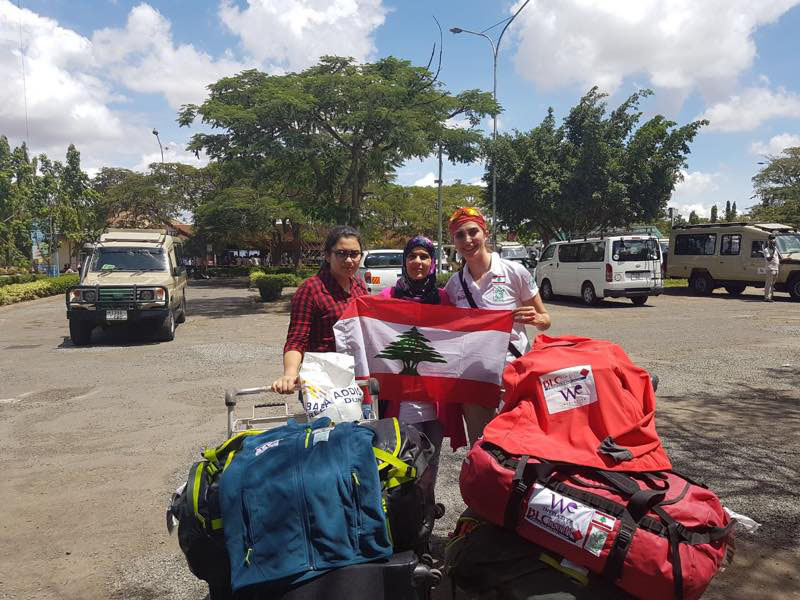 On April 8th, Joyce will travel to Arusha in Tanzania to meet with her crew. They will gather all necessary logistical and food supplies to begin the ascent on this summit, considered a favorite destination for extreme mountain sports lovers.
Joyce intends to climb up to the summit within 7 days using the Machame track allowing the most beautiful experience for mountaineers on Kilimanjaro. This track is 100-kilometer long and is achieved within 6 to 7 days at least. She chose to complete her adventure within 7 days to better cope with the environmental and weather conditions reigning over the African summit. The path that Joyce adopted makes her get fast to the Lava tower, which is a high point on Kilimanjaro (4,630 m), while it descends on DAY3, 700 meters at once to reach the Barranco camp (3,950m). This is where a success of mountaineering lies: climb high and sleep low.
Through this adventure, Joyce aims to empower and enable young Lebanese girls by helping them to achieve astonishing accomplishments that will highlight their real fitness and intellectual capabilities. In addition to that, this challenge allows her to spread awareness around healthy lifestyle amongst youngsters and push them to adopt a dynamic way of life, complementing the efforts of one of the team members who is working on a similar inspiring project in her school.
This particular trip by Joyce Azzam is endorsed by the We Initiative from BLC Bank, a program that she is the ambassador for and has become internationally renowned in the field of empowering women in economy and business while helping them realize their potential. Joyce is also supported by Mrs. Claudine Aoun Roukoz in her ongoing efforts to leverage the Lebanese women's cause, while also enjoying the backup of the Patrouille Des Sommets led by General Chamel Roukoz.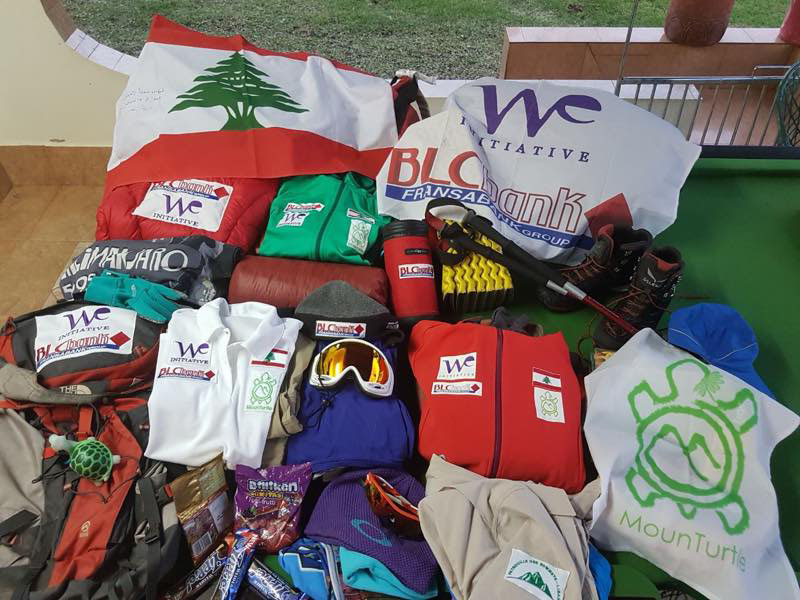 Joyce Azzam has always had a passion to overcome challenges and conquer extreme situations through her favorite sports: mountaineering. She has reached so far the top of 21 summits around the world and plans a series of adventures for the next couple of years to conquer more mountains. Joyce's mission is considered amongst the hardest, knowing that only 51 persons including 12 women completed this challenge. This places Joyce among pioneering achievers in Lebanon and the region, as her adventures are part of the Explorers Grand Slam Project. She plans to conquer Mount Denali in Alaska in addition to Kilimanjaro this year making her the 1st Lebanese woman to reach the top of the highest seven mountains in the world in both poles. Joyce works to inspire all Lebanese females through the spirit of mountaineering and initiatives she adopts. She shows them that nothing is impossible when equipped with a strong will and determination to reach success. She is always ready to climb any summit with any Lebanese woman from the diaspora which encourages those Lebanese ladies to reconnect with their heritage and feel proud about their home country.
About Joyce Azzam
Joyce Azzam is a Conservation Architect with a MA in Conservation of Historic Cities and Buildings. She is currently a PhD Candidate in Landscape & Environment at La Sapienza University of Rome. She loves to research innovative approaches to protect and conserve cultural heritage specifically "Cultural Routes & Landscapes" as much as she loves to enjoy the outdoors sports and activities. Joyce has achieved first place as part of a 40km trail-running team competition organized by the Lebanese Army Rangers Regiment. Moreover, she completed the grueling "Tour de Suisse" cycling, and finished 3 times the 42 kilometers edition of the Beirut Marathon. She also has numerous other major sports records and accomplishments on both Lebanese and international scales.
Categories