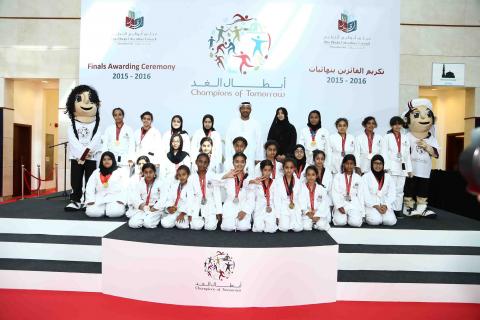 882 girls shine in 11 sports during 'Champions of Tomorrow' finals
Following the results of the boys' finals on Monday (March 7, 2016), ADEC concluded yesterday (Tuesday, March 8, 2016) the girls' finals for the 'Champions of Tomorrow' campaign organized over the last four months in all schools of Abu Dhabi, Al Ain and the Western Region. The campaign achieved a record turnout of more than 84,000 students of different age groups, with the final round of competition for girls seeing the participation of 882 students who delivered strong performances and exhibited high skills in 11 sports, including athletics, swimming, fencing, taekwondo, judo, Jiu-Jitsu, archery, basketball, handball and volleyball.
 The finals games were held in seven different locations: the Petroleum Institute, the Armed Forces Headquarters, Mubarak Bin Mohamed School, Al Afaq School, Al Marwa School, Al Reem School, and Al Mawaheb School. The matches were energetic, fun and highly competitive, drawing inspiration from the supportive audience of parents and faculty members from various schools participating in the campaign.
 H.E. Mohammed Salem Al Dhaheri, Executive Director – School Operations, ADEC, concluded the day by honoring Primary, Secondary and High School winners who showed exception levels of skill and professionalism in a number of sports during the awarding ceremony. A total of 11 teams and 23 individuals emerged as winners across all cycles and categories of sports in the girl's final of the 'Champions of Tomorrow.'
 H.E. congratulated all the winners and the teams that participated in the second edition of the campaign, which was organized to raise awareness among young people about the importance of maintaining physical fitness and the development of sporting skills as a means to improve public health. This will help in creating a new generation of highly qualified athletes who are capable of representing the UAE in national and international sports tournaments.
 H.E. Al Dhaheri added: "As we join the world in celebrating International Women's Day which coincided with the Champions of Tomorrow's finals for girls, we commend the importance of organizing such awareness initiatives that reveal the premium skills and abilities of young girls in the UAE."
 "We at ADEC will continue to move forward in supporting emerging talents, providing them with the possibilities and opportunities needed to achieve the highest positions and world-class levels in various sports. The 'Champions of Tomorrow' campaign is a great example of the ambitious vision of the UAE's wise leadership which puts the sports culture at the forefront of their priorities to achieve comprehensive social development," concluded H.E. Al Dhaheri.
Categories