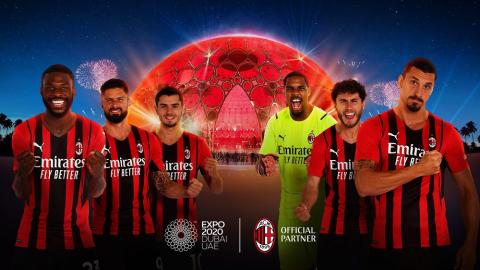 Legendary Italian football club will help to inspire positive change through football, with a physical presence at Expo.
A new partnership between Expo 2020 Dubai and AC Milan has been announced, with the Italian football giants working to help deliver Expo's aims to inspire positive change, including one of its key initiatives – the Programme for People and Planet.
The partnership will use the appeal and popularity of AC Milan – nicknamed the Rossoneri after their iconic red-and-black shirts – with a fanbase of more than 500 million fans internationally.
As well as being physically present at the event, Rossoneri players and ambassadors will produce unique content promoting the fundamental values of sport and inspire positive change through football.
The partnership will help Expo 2020 deliver the Programme for People and Planet, which is designed to address the most pressing challenges we face today by leveraging the power of World Expos to unite the world and galvanise collective and meaningful action.
AC Milan have already been active in the Middle East for many years, including playing matches in the region and maintaining a long-standing partnership with Emirates.
With a passionate global fanbase and a history spanning 122 years, the club has been a pivotal force in the world of football, with values closely aligning to Expo 2020's belief in the unique power of sport to bring together people, communities and nations through collaboration and innovation.
 
Source: www.expo2020dubai.com