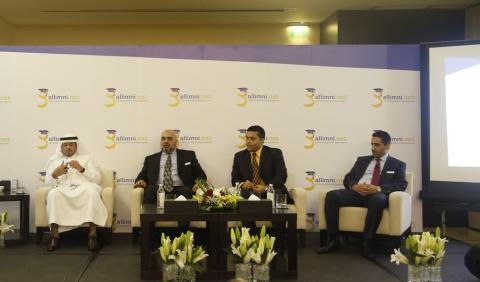 Launch accompanied by release of 'Akyumen Falcon,' the world's first patented projector educational tablet 
  November 26, 2014
3allimni.net, an initiative aimed at raising the bar on education quality in the Arab World, has revealed its plans to launch the region's first-of-its-kind online Arab platform that will allow more self-development among educators and encourages increased collaboration across educational and academic projects. The announcement was made during a press conference held on November 26, 2014 at the JW Marriott Marquis Hotel. The privately owned regional corporation, which is headquartered in the UAE and has regional offices in Jordan, aims to create an Arabian parallel knowledge exchange community of experienced providers/educators and knowledge learners to enhance learning outcomes and bridge the gap on skills required in private sector. Looking to reinforce their efforts among local knowledge experts, 3allimni.net will also be exclusively releasing the 'Akyumen Falcon,' the world's first-ever patented projector-equipped educational tablet.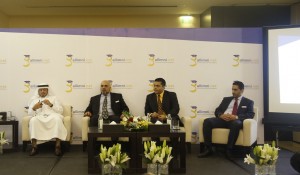 According to Mr. Isam Shahwan, CEO and Founder, 3allimni.net will offer educators and knowledge experts key advantages like the ability to promote themselves online—creating more visibility through their profiles, along with their achievements as educators and knowledge experts. Organizations can also tap into the online platform to recruit top talent. 3allimni.net acts as a strategic tool that allows for knowledge masters to create a side income based on their skills and value through the exchange of knowledge and expertise. The concept is similar to the Gerson Lehrman Group where knowledge experts are tapped for their knowledge and compensated for their services. In addition, the online portal will offer other services and products like virtual labs, an educational gaming portal, knowledge center, virtual educational institutions and an online community of fellow educators. 3allimni.net will also feature an online store offering a wide range of products such as books, gadgets, and learning devices.
"We are pleased to announce the launch of 3allimni.net, a new online portal that will definitely bring a big boost to the careers of educators in the region," said Eng. Sobhi Batterjee, Chairman, 3allimni.net. "This strategic online platform falls in line with the vision of His Highness Sheikh Mohammad Bin Rashid Al Maktoum, UAE Vice President and Prime Minister and Ruler of Dubai, to fully develop the country's academic and educational segments. As such, we are also releasing the Akyumen Falcon—a revolutionary new tablet that reflects our commitment towards introducing more modern ways in improving the value of knowledge providers and learning mediums."
Mr. Shahwan further shared that the launching of the first phase of the new online portal is set to target the K12 Arab markets, which are currently made up of more than 62 million students and seven million educators. The second phase of the launch is expected to reach out to students from Higher Education via a B2B offering that is expected to be released in the first quarter of 2015. The portal is also looking to capture Arabic expatriate communities in the West as a means to address the demand for these services. As an example, the United States, Canada, The United Kingdom, and rest of West Europe currently have a community of over 50 million Muslim residents with an approximate figure of 5 million students in K12 who badly need to tap education and knowledge experts in the areas of Arabic and Islamic studies.
The Akyumen Falcon Tablet is a portable, lightweight, and easy-to-use tablet, ideal for today's various education needs. The tablet offers key features like HD quality, bright projection technology and high capacity memory. The new device comes with a memory of 64 GB, which can also accommodate a 128 GB microSD card; 1080 P high definition projection; 50+ lumens for its projector light; an eight megapixel front and back camera and a two GB plus six GB memory partitioned RAM.
"Akyumen is honoured to be working closely and exclusively with 3allimni.net—whose efforts to put the spotlight on Arab knowledge experts are truly commendable. In line with this, we are collaborating with 3allimni.net for the release of the Akyumen Falcon Tablet, a revolutionary device that is expected to enhance the educator-learner learning experience. This new tablet will also be seeing its global launch at next year's edition of the Consumer Electronics Show (Mobile Congress 2015) in Barcelona, where we will be showcasing the unique features of this device and its strength as a strategic learning device," concluded Mustafa Saied, CEO for Latin America, MENA and Europe, Akyumen.
About 3allimni.net
3allimni.net is a privately held regional corporation aiming to create an Arabian parallel knowledge exchange community of knowledge experts and knowledge seekers/students, in cost effective, and practical manner through the 3allimni.net's online platform and its complimentary services. Founded by Chairman Eng. Sobhi Batterjee and CEO Isam Shahwan, '3allimni.net' pushes the limits of technology to create an educational community of utmost quality. The company's services are available for the whole world in Arabic, English and French.
For more information, please contact:
Email: SalehAQ@3allimni.org
P.O.Box 103896, Dubai, UAE
Categories