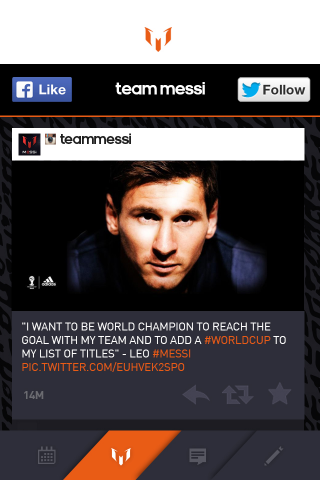 adidas and Team Messi launch exclusive app which will follow every step of the star player in global football´s grandest stage and as it happens 
Lebanon, 12th of June 2014 – To ensure than fans all over the world don´t miss a beat of what´s happening with Leo Messi from the first day of the World Cup, adidas introduces Vamos Leo, the most comprehensive, real-time app for all things Messi at the 2014 FIFA World Cup Brazil™.
The app, which will be supported by a Facebook tab, will feature a range of exclusive info and insights about the Argentinian captain, including a countdown to his matches and an aggregation of all official 'Leo news'. Also within the app is an exclusive live feed of all the social media conversations involving Messi throughout the tournament – allowing fans not only to follow, but also to engage and be a part of these conversations.
 Finally 'Vamos Leo' also offers fans a bespoke image generator which will push images to users devices live from the Team Messi photographer at all the FIFA World Cup games he plays, and as the moments happen. They can immediately add copy, stamps and filters to create and share online with their friends, to feed the buzz around the star and to have their personalised say on those seminal moments captured.
The Vamos Leo app is live on Google Play and the App Store from the 12th of June, ahead of Argentina´s first game against Bosnia and Herzegovina on the 15th of June. It will enable fans that download it the chance to win exclusive prizes, including tickets to the 2014 FIFA World Cup™ Final.
On June 15th, ahead of Argentina´s first World Cup match against Bosnia, 'Show your Colours or Fade Away', the first official VAMOS LEO film will be premiered. Each film will share an insights about football's biggest star, all shot behind the scenes ahead of the 2014 FIFA World Cup™. Films will then be released episodically and reactively as Leo's tournament progresses. 
Find out more on:
https://www.facebook.com/TeamMessi
www.facebook.com/adidasfootball
Google Play:
App Store: 
For further information please contact:
 About adidas Football: 
adidas is the global leader in football. It is the official sponsor / official supplier partner of the most important football tournaments in the world, such as the FIFA World Cup™, the FIFA Confederations Cup, the UEFA Champions League, the UEFA Europa League and the UEFA European Championships. adidas also sponsors some of the world's top clubs including Real Madrid, FC Bayern Munich, AC Milan, Flamengo and Chelsea. Some of the world's best players also on the adidas roster are Leo Messi, Gareth Bale, Mesut Özil, Dani Alves, Oscar, Xavi, Karim Benzema and Bastian Schweinsteiger.
Categories