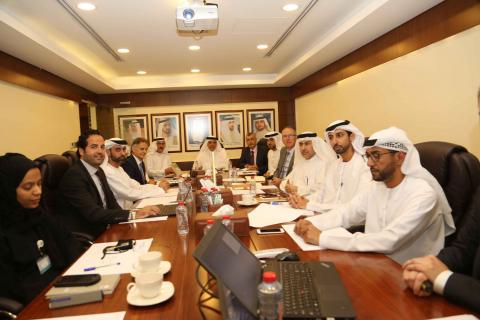 The Dubai Supreme Council of Energy's Demand Side Management Executive Committee held its 11th meeting at its headquarters, chaired by HE Ahmed Buti Al Muhairbi, Secretary General of the Dubai Supreme Council of Energy. The meeting was attended by Yousef Jebril, Executive Vice President of Power and Water Planning at Dubai Electricity and Water Authority (DEWA) and Vice Chairman of the Committee, Abdullah Rafi, Assistant General Manager for Electricity and Water Planning at Dubai Municipality, Faisal Ali Rashid, Director of Demand Side Management at the Dubai Supreme Council of Energy, Graeme Sims, Executive Director of the Regulatory and Supervisory Bureau for Electricity and Water in Dubai, Mustafa Alyousuf, Member of the Regulatory and Supervisory Bureau for Electricity & Water in Dubai, Ali Al Jassim, COO of Etihad ESCO, Arif Abu Zaher, Manager of Energy Demand Side Management at Etihad ESCO, Basil Saad, a representative of the Roads and Transport Authority (RTA), Taher Diab, Director of Strategy and Planning at the Supreme Council of Energy, Mohammed Abdul Kareem Al Shamsi, Senior Manager of Climate Change & Sustainability, Shamma Al Rahmah, Manager of Business Planning and Performance Management at Emirates National Oil Company (ENOC), and Alia Busamra, Senior Compliance Officer (Environment & Energy) at ENOC.
"In line with the vision of His Highness Sheikh Mohammed bin Rashid Al Maktoum, Vice President and Prime Minister of the United Arab Emirates and Ruler of Dubai, and in accordance with the Dubai Clean Energy Strategy 2050 to make Dubai a global hub for clean energy and a green economy, the Executive Committee of the Dubai Supreme Council of Energy is working towards the implementation of the strategy for energy demand management. The strategy features 9 programmes to manage energy demand. These include green building regulations, retrofitting existing buildings, district cooling, wastewater reuse, laws and standards to raise efficiency, energy-efficient street-lighting, and the Shams Dubai initiative to regulate the generation of solar energy in buildings. This will further contribute towards achieving Dubai's vision of becoming the city with the lowest carbon footprint city in the world," said HE Saeed Mohammed Al Tayer, Vice-Chairman of the Supreme Council of Energy.
The energy demand side management strategy uses methods that adhere to best international practices, and similar programmes implemented globally. These include organisations, capacity-building, public awareness and appropriate policy and regulatory frameworks, information systems and measurement, and suitable funding mechanisms for Dubai.
"85% of Dubai's Energy Intensity Mapping has been achieved. The project aims to make use of building and energy consumption data to find a method of analysing and monitoring consumption levels, to find a solution to limit Dubai's high levels of energy use," said Al Muhairbi.
"The Energy Intensity Mapping aims to unify consumption and building data. The meeting also featured a discussion in relation to the Energy Demand Management Manager at Etihad ESCO's executive plan, who is responsible for supporting and following up on energy demand efficiency programmes. We also discussed implementing strategies to achieve energy efficient rankings for the buildings project, which will improve consumption efficiency throughout Dubai's buildings, added Al Muhairbi.
Categories