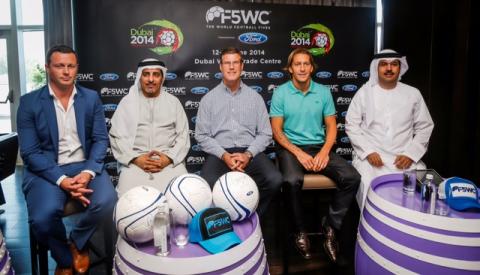 DUBAI, UAE, 04 June 2014 – Ford Middle East today announced its partnership with Football Five's World Championship (F5WC) to bring this global initiative to Dubai for the first time. F5WC aims for mass participation amongst amateur football players, who play in 5-a-side games for fun whilst bringing together countries to celebrate the beautiful game.
The Championship kicked off earlier this year with knock out games in 32 participating countries across 6 continents. And with 100,000 amateur teams from around the globe having taken part in a 6-month long exhilarating and exciting qualifying campaign, 32 finalist teams will fight it off for the Championship title in Dubai, courtesy of Ford Middle East, on the 13th and 14th of June at the Dubai World Trade and Convention Center.
Football analysts say the Middle East and Asia are the future of Football with more younger amateurs and active players than ever, and Ford wants to be part of this promising rise of Football and sports in general in the Middle East, according to Paul Anderson, Ford Middle East's director of Marketing.
"Ford believes in the universal language of football to instill values in the youth and to help them in their development, be it on the pitch or in their communities," he said. "Through Football, the youth can learn a number of positive values, such as loyalty, commitment, teamwork, and respect for others.
"Ford Middle East is delighted to partner with the Football Five's World Championship and bring the finals to Dubai on its inaugural round," Anderson added. "This is a great competition for young amateur teams from around the world as they get the chance to showcase their talents to professional scouts from some of the best clubs in Europe. Ford is very active in engaging with the youth as evidenced by the range of activations and associations we hold in the region."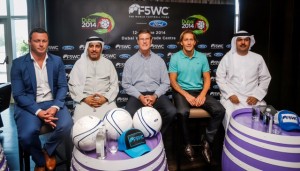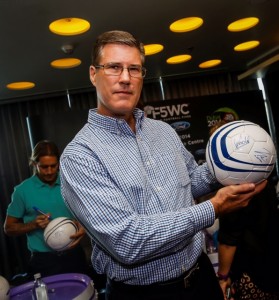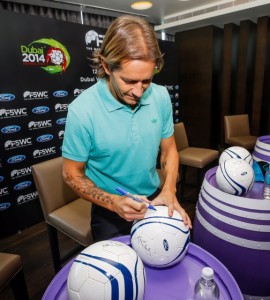 As the F5WC finals bring 32 of the best 5-a-side teams from around the globe to one venue, multiple scouts from Manchester United, Real Madrid, Chelsea, Liverpool, Barcelona, Hamburg and Juventus are expected to attend the finals.
Hosting the F5WC in Dubai is in line with the Dubai Sports Council's mandate to provide a comprehensive sports environment as well as pave the way for the youth to cultivate their sporting and cultural talents and aptitudes in a way that leads them to achieving national, regional, and international tangible results.
"Football has a huge following in Dubai and we have many talented players that we must nurture.  We are pleased to host F5WC in Dubai and show the world that we have some of the best talents right here," said Dubai Sports Council director of Marketing and Promotion, Rashid Al Kamali.
James Davies-Yandle, director at F5WC, said, "We are excited to hold the F5WC finals in Dubai, as this city is one of the best in hosting world-class events of this calibre. We hope for a fun and successful event and are confident that the players who are some of the world's best amateur players will have a great tournament. We thank Ford Middle East for taking F5WC under its wings."
Fun for Footie Fans
The F5WC is not just a football competition but also a fun weekend for the whole family. There will be half time entertainment from football freestylers, face painting, Electronic Arts (EA) Sports, a PlayStation4 (PS4) gaming zone, live DJ as well as plenty of giveaways for the crowds.
The Ford fan zone promises exciting activities for everyone. The Ford Raptor Simulator will definitely raise the adrenalin level as participants race to beat each other's scores.  For audiences who love to strike a pose, a special and fun 3D mirror will be in place, giving unique angles to the subject as image is captured. Football fanatics also will get a chance to score solid goals as they shoot four footballs into a hole and get extra balls if they answer a question on Ford Fusion correctly. Special Ford prizes await the challengers. 
About Ford Motor Company
Ford Motor Company, a global automotive industry leader based in Dearborn, Mich., manufactures or distributes automobiles across six continents. With about 180,000 employees and 65 plants worldwide, the company's automotive brands include Ford and Lincoln. The company provides financial services through Ford Motor Credit Company. For more information about Ford and its products worldwide please visit www.corporate.ford.com. 
Ford's history in the Middle East goes back more than 60 years. The company's local importer-dealers operate more than 155 facilities in the region and directly employ more than 7,000 people, the majority of whom are Arab Nationals. For more information on Ford Middle East, please visit www.me.ford.com 
Ford Middle East is also a responsible corporate citizen with currently three CSR initiatives running in the region including the Ford Motor Company Conservation & Environmental Grants, Ford Warriors in Pink® breast cancer awareness campaign and Ford Driving Skills for Life safe driving awareness programme for young drivers and teens. 
The Ford Grants is a grass-root level initiative that has offered US$1.3million in grants to more than 150 Middle Eastern environmental projects since 2000. Ford Warriors in Pink® is a breast cancer community-based awareness initiative recognising the strength and courage it takes to deal with the everyday challenges of battling breast cancer throughout the year.  Ford Driving Skills for Life is a free programme designed to impart safe driving practices to students to help improve their road safety record.
Categories