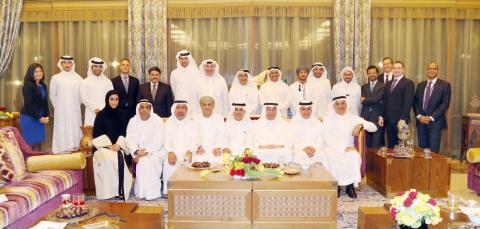 Dinner focuses on key issues in GCC family businesses and their impact on region's economy
June 29, 2014 - The Family Business Network GCC (FBN-GCC), the regional association of Dubai-based Family Business Network International (FBN), recently hosted the 'Majlis Keynote Dinner' for eminent GCC business families at the residence of Omar Hussain Alfardan, President and CEO of Alfardan Group. The intimate dinner was led by association Chairman H.E. Abdulaziz Al Ghurair, CEO of Mashreq Bank and Chairman of Al Ghurair Investment LLC, along with Vice Chairman Omar Al Futtaim, CEO of Al-Futtaim Group, and Directors; Omar Hussain Alfardan, President and CEO of Alfardan Group Holding; Omar K. Alghanim, CEO of Alghanim Industries and Chairman of Gulf Bank; and Essam Al-Muhaidib, Group CEO of A.K. Muhaidib & Sons.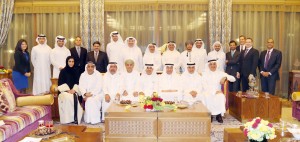 Organized under the patronage of Omar Hussain Alfardan with an aim to strengthen communication channels among family business owners in Qatar and across the Gulf, the Majlis Keynote Dinner was attended by prominent business leaders and decision makers from family business across the GCC. In his keynote speech, Omar Romman of Banyan Family Advisors shared with the attendees some insights on issues faced by family businesses and how they can affect the economy of the GCC. Yousef Al Jaidah, Deputy CEO of Qatar Financial Center also discussed the legal domicile options available in the GCC, including Family Trust and Family Office Structures in Qatar.
Omar Hussain Alfardan, President and CEO, Alfardan Group, welcomed the FBN-GCC Board of Directors headed by Al Ghurair, a renowned leader among the Gulf's family businesses and highlighted the importance of the FBN GCC by stating; "The family businesses in the Gulf region have played a vital role in the development of various industries, including new sectors and ventures such as real estate development, hospitality, travel and tourism, aviation and logistics. They have significantly contributed in making the region a leading global power while rising above local, regional and global challenges. Not only have they admirably upheld local customs and traditions while handing over their duties from one generation to another, but have also ensured that the new generation is professionally qualified, trained and competent to take up fresh challenges and emerge as successful business leaders. The GCC's family businesses have created a conducive environment that promotes innovation, nurtures talent, and creates new job opportunities for the younger generation."
H.E. Abdulaziz Al Ghurair, CEO of Mashreq Bank and Chairman of Al Ghurair Investment LLC and Chairman of FBN-GCC, said: "As FBN GCC grows as a community and GCC families hand over the reins of family businesses from the second generation to the third generation, we want to ensure that they are aware about governance, succession and professionalization. The Majlis Keynote Dinner in Doha is among our various initiatives undertaken to create a platform to raise awareness among the young entrants into the family businesses and have a positive social impact. The FBN Global Summit to be held in Dubai in October this year will also provide a unique opportunity to build awareness and learn from international family groups from other regions."
During the event, FBNGCC revealed that they will host FBN International's annual Global Summit under the theme 'A Proud Past, A Sustainable Future' in Dubai from October 15 to17, 2014. More than 800 members from over 50 countries are expected to attend the Summit, which will be the first FBN International event held in the Middle East. The Summit will offer a wonderful opportunity for members to explore business prospects in Qatar and Oman. During their visits, members will gain a deep insight into the leading regional family businesses through a series of hosted visits to corporate headquarters, factory plants, cultural sites and family homes.
Categories