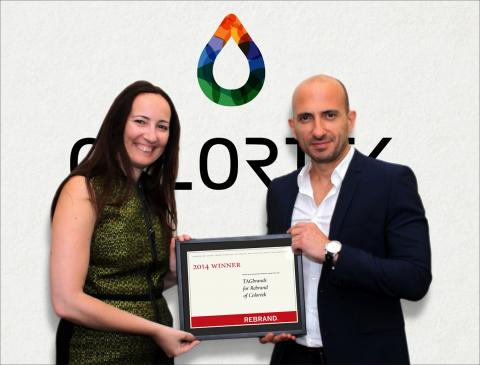 Effective brand transformations are a means to overcome competitor pressures, declining sales revenues and outdated marketing strategies, while remaining financially viable. As a way to uplift the brand without removing any of its recognized heritage, the Lebanese branding and design agency -  TAGbrands - has received the Distinction Award in the 2014 REBRAND 100® Global Awards Showcase for the rebranding of Colortek (a division of Kassaa).
The prestigious global accolade is the highest recognition for excellence in Rebranding and is given to 100 companies around the world each year. The goal was to rebrand Colortek while upholding its recognition as the number one paint retailing franchise in the local Lebanese market as well as international markets in which they are located in. To accomplish this, it was important to enforce the brand's values of creativity, innovation, and customer-centricity.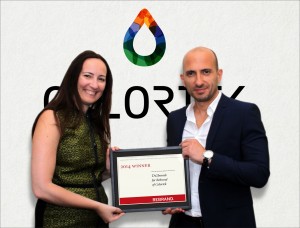 "It is an honor to be recognized in the 2014 REBRAND 100® Global Awards," said Maya Karanouh, CEO and Co-founder of TAGbrands. "Our brief was to rebrand Colortek while respecting both its heritage and new business goals. It was also important for us to restructure Colortek's architecture of the group of companies to create successful brand equity."
Commenting on the win, CEO of Colortek, Yahya Kassaa said, "Having our new brand identity recognized on a global stage is a moment of pride for us. The rebrand managed to unify the brands, and has been a catalyst for many achievements: a new vision, excellent discussions, and increased recognition. It has also created an exciting new vibe in the company, strengthening the commitment of its employees. I would rate these achievements higher that any measurable results."
"REBRAND 100 recognizes the incredibly complex and successful rebranding efforts that drive businesses forward," said Anaezi Modu, founder and CEO of REBRAND. "It is wonderful to see the evolving talent in brand consultants working in the MENA region. An example is the fine work by the Beirut-based TAGbrands."
Each year, an international panel of industry experts convenes to jury the REBRAND Award's bi-annual competition. The winners of the REBRAND Award spanned over 30 industries from 34 countries around the world. Previous winners have included Nike, Walmart, Audi, Reuters, KFC and Cadbury.
About TAGbrands
TAGbrands is an award-winning branding and design agency, based in Lebanon, co-founded by Maya Karanouh. Our multi-disciplinary team creates compelling and innovative brand strategies, robust corporate identities, inspiring packaging design, pioneering product development and customer centric branded retail environments. We align business strategies to enhance brand development and deliver communications that ensure strong brand value and ROI. Transforming your identity is just the beginning, our goal is to enhance the way your customers feel about your brand. TAGbrands is proud to have amongst its regional client base: Banque du Liban, Bank Audi, World Sports Group, IPT, Debbane Saikali Group, Eduvation, Slim Oil, Bar Tartine, Patchi and M1 Group.
Please visit www.tagbrandsglobal.com  for more information.
About Colortek
COLORTEK®, a division of Kassaa Group, is a decorative paint manufacturer of the leading brand in wall & floor fashion. With its unique concept, constant innovation, continuous training, wide range of high quality products and color software, COLORTEK® has developed into a fast growing paint retailing franchise present in Lebanon, United Arab Emirates, Qatar, Bahrain, Syria, France and Morocco.
Please visit www.colortek.eu for more information.
For further details, please contact:
toufic.e@actionprgroup.com
Maya Karanouh
maya@tagbrandsglobal.com
Categories