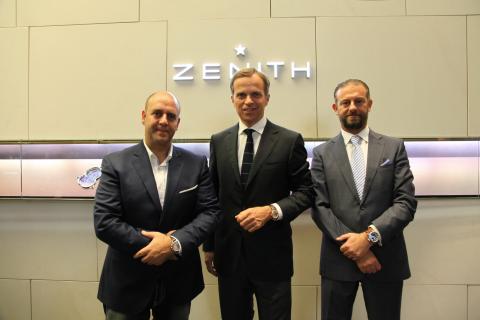 Luxurious Swiss watchmaker, Zenith, recently announced prominent entrepreneur Nadim Mehanna as its latest Friend of the Brand from the region. Currently the Managing Owner of the Motor Show Multimedia Network and once a racer himself, Nadim, aka Mister F1, has been credited with introducing Formula One to the Middle East as the first F1 expert and presenter of the region. An automotive engineer by profession, Nadim is the most powerful and popular Motoring and Hi-Tech celebrity in this part of the world and a perfect fit for the cutting-edge and esteemed Zenith.
Regional Brand Director, Mr. Georges Bechara said, "Zenith is committed to skill, technology and precision and these are all values that are present and significant in the sporting world. As a keen supporter of talent in a variety of sports, Zenith is proud to announce Mr. Nadim Mehanna as the new Friend of the Brand as his prominence and proficiency make him the ideal match for Zenith."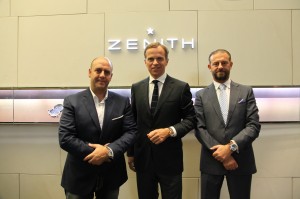 Speaking out on his appointment as the new Zenith Friend of the Brand, Nadim said, "It gives me great pleasure to be named Zenith Friend of the Brand as added to my motoring passion, I am also a watches collector and have always been as fond of Zenith as I have of speed and hi-tech! Classic and innovative, Zenith's elegance and precision are my most favorite characteristics of the brand and I am immensely excited to commence our dynamic journey which holds many surprises!"
Nadim also founded NMPRO, a hi-tech multimedia production company dedicated to handling refined brands for Multinational companies ranging from Motoring, Telecommunication, Electronics, Aviation, Luxury and Watches among others. As part of the exclusive partnership, Zenith watches will become the official timekeeper of Nadim's MotorShow. Furthermore, Nadim will be revealing a different Zenith timepiece on every episode of MotorShow which will be picked based on the type of car featured in that particular episode.  Taking the prominence of Zenith a step further, MotorShow's official website, the world's largest in terms of automotive content, will host a Zenith micro-site that will display the latest news, innovations and everything else related to the intriguing world of Zenith watches.
With this elite partnership of icons, the Zenith universe lights up once again!
Categories