CSR Champions of the Arab Region unveiled
 The Arabia CSR Awards 2016, the latest edition of one of the Arab region's highest accolades, concluded on a high note with 20 top government and  private entites receiving prestigious recognitions for their excellent and innovative Corporate Social Responsibility (CSR) and sustainability programs. Trophies were handed over to the winners, while Certificates of Appreciation were given to all nominees during the awarding ceremony held at the plush Steigenberger Hotel in Dubai.
Habiba Al Marashi, President & CEO of Arabia CSR Network said during the ceremony: "We have seen new major trends and patterns evolving in the areas of CSR and sustainability over the years. Regional organizations now view CSR and sustainability from the lens of social value creation and stakeholder needs. They are eager to engage with stakeholders, identify critical touch points, and build long-term strategies that support national and regional plans and mandates for growth and development. This is a very welcome development and one that will be very impactful for the region as we move to achieve our Sustainable Development Goals (SDG) and accomplish the 2030 Arab Agenda for Sustainable Development,".
In her speech, Al Marashi added that the Awards launched in 2008 reflects the progress of all-encompassing sustainability efforts in the Arab region. Known globally for its rigorous methodology and international standards, the Awards, a carbon neutral event, applies international frameworks and standards such as the the Global Reporting Initiative (GRI), UN Global Compact, and EFQM. The competition is open to all organizations which have successfully implemented a strategic CSR and sustainability approach.
A total of 68 organizations, comprising  major public and private entities and small and medium enterprises from the Middle East and North Africa region, joined this year's competition. The nominees competed in seven categories and were composed of leading players from the oil and gas, telecom, bank, and hospital sectors, to name a few. In choosing the winners, highest standards and rigorous process were implemented in each category in keeping with the Awards' prestigious global reputation. The Awards is under the patronage of the League of Arab States (LAS) and supported by the United Nations Environment Programme (UNEP).
This year's winners are  Al Futtaim Carillion (UAE), Gulf Petrochemical Industries Company (Bahrain), Zulekha Hospital (1st runner up, UAE), and Interserve International (2nd runner up, UAE) under the Large-Scale Enterprise Category; ABB Qatar (Qatar), HolidayInn AlBarsha (Winner, UAE), Al Jazeera International Catering (1st runner up, UAE), and Kuwait Petroleum (2nd runner up, Kuwait), the Medium-Scale Enterprise category; and RoadSafety UAE (winner, UAE) and Abu Dhabi University Knowledge Group (1st runner up, UAE) the Small-Scale Enterprise Category.
Dubai Electricity and Water Authority (winner, UAE) and Emirates Transport (1st runner up, UAE) won under the Public Sector Category; BMCE Bank of Africa (Morocco) under the Financial Services Sector; Emirates National Oil Company (UAE), the Energy Sector. While in the partnership and collaboration category the winners are: the Emirates Transport (UAE), Gulf Petrochemical Industries Company (Bahrain), DAL Motors Company  (1st runner up, Sudan), Tristar Transport LLC (1st runner up, UAE), and Orange Tunisie (2nd runner up, Tunisia). Sharjah City for Humanitarian Services is the 2016 recipient of Special Recognition Award.
The Awards' partners this year were myclimate, in association with its regional implementation partner Farnek, and DNV-GL. 7 Days, Gulf News, Orient Planet, and Cyber Gear were its media partners.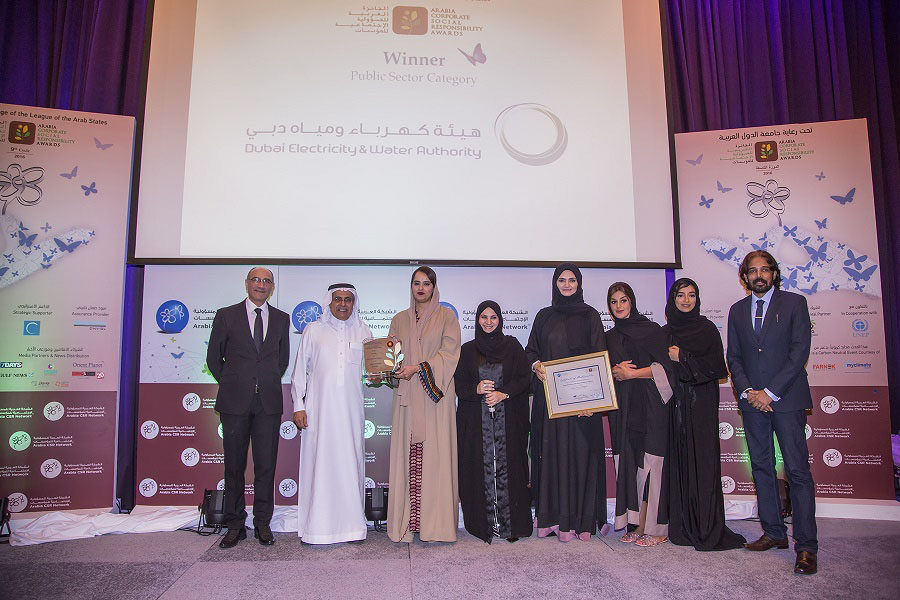 Winners of the Public Sector Category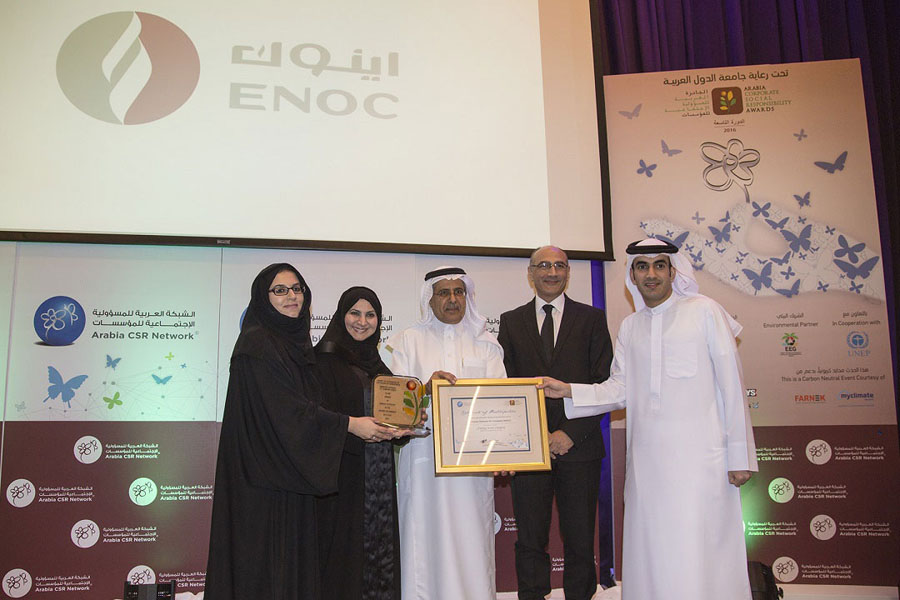 Winners of the Energy Sector Category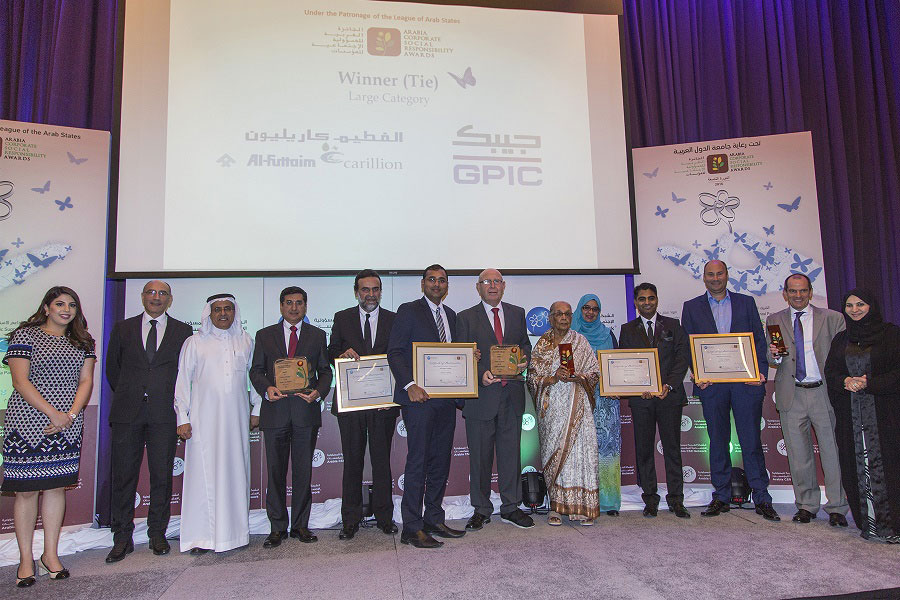 Winners of the Large-Scale Enterprise Category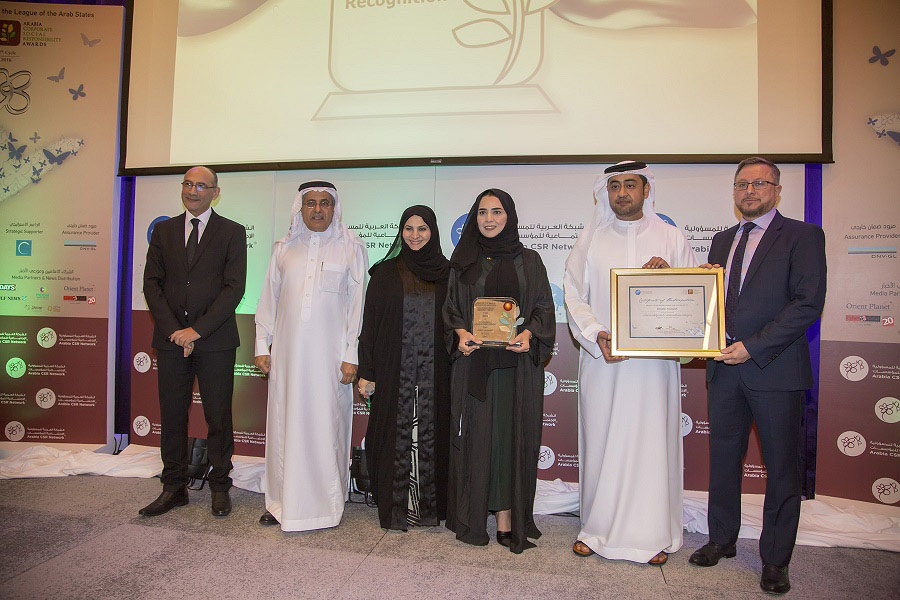 Winners of the Partnerships and Collaborations Category 
Categories