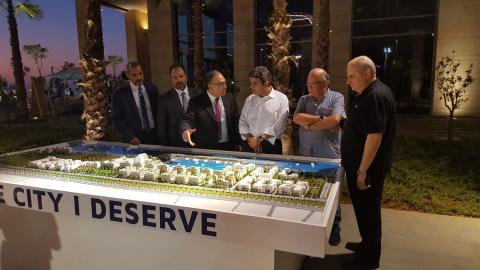 Event aimed at supporting local tourism gathered 10 participating villages and more than 900 visitors at the heart of the community                    
As Lebanon's leading mixed-use destination, Waterfront City hosted the third edition of L'Orient Le Jour's much-anticipated annual event in support of rural tourism: "Le Village Préféré des Libanais".
More than 900 visitors gathered at the heart of the community, The Marina Promenade, being the country's biggest F&B destination, to discover unique features of this year's 10 participating villages. Each village had a dedicated area to introduce guests to their specialties and favoured cuisines prepared by Souk el Tayeb and Tawlet, Lebanon's authentic farmers market concepts, various entertainment shows by local talents took place throughout the evening, as well as dedicated activities for kids.
John Ward, Waterfront City - Project Head, Communities at Majid Al Futtaim – Properties, commented: "At Waterfront city, one of our key aspirations is to create a fully integrated community living that encourages human interaction and a true sense of belonging. We are pleased to host such a prestigious event that further cements our continuous commitment to supporting socio-economic development in Lebanon and celebrates the country's authentic cultural heritage at this thriving urban destination."
Spanning over 250,000 sqm, Waterfront City, a joint venture between Majid Al Futtaim – Properties and Joseph G. Khoury & Fils Holding, is set to elevate integrated community living experience in the Levant with its contemporary homes, 40,000 sqm of urban retail, wide choices of dining areas and the country's first Business Park, expected to be operational by Q1 2019. To date, Waterfront City has completed the handover of 178 homes and is expected to welcome more than 100 families into the community by end of 2018.
Categories