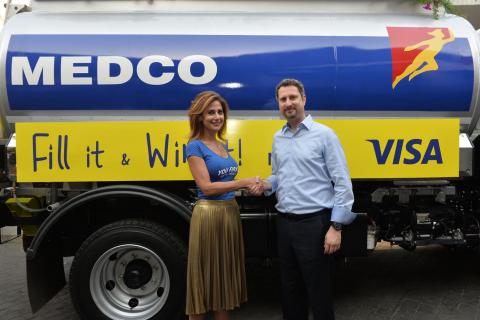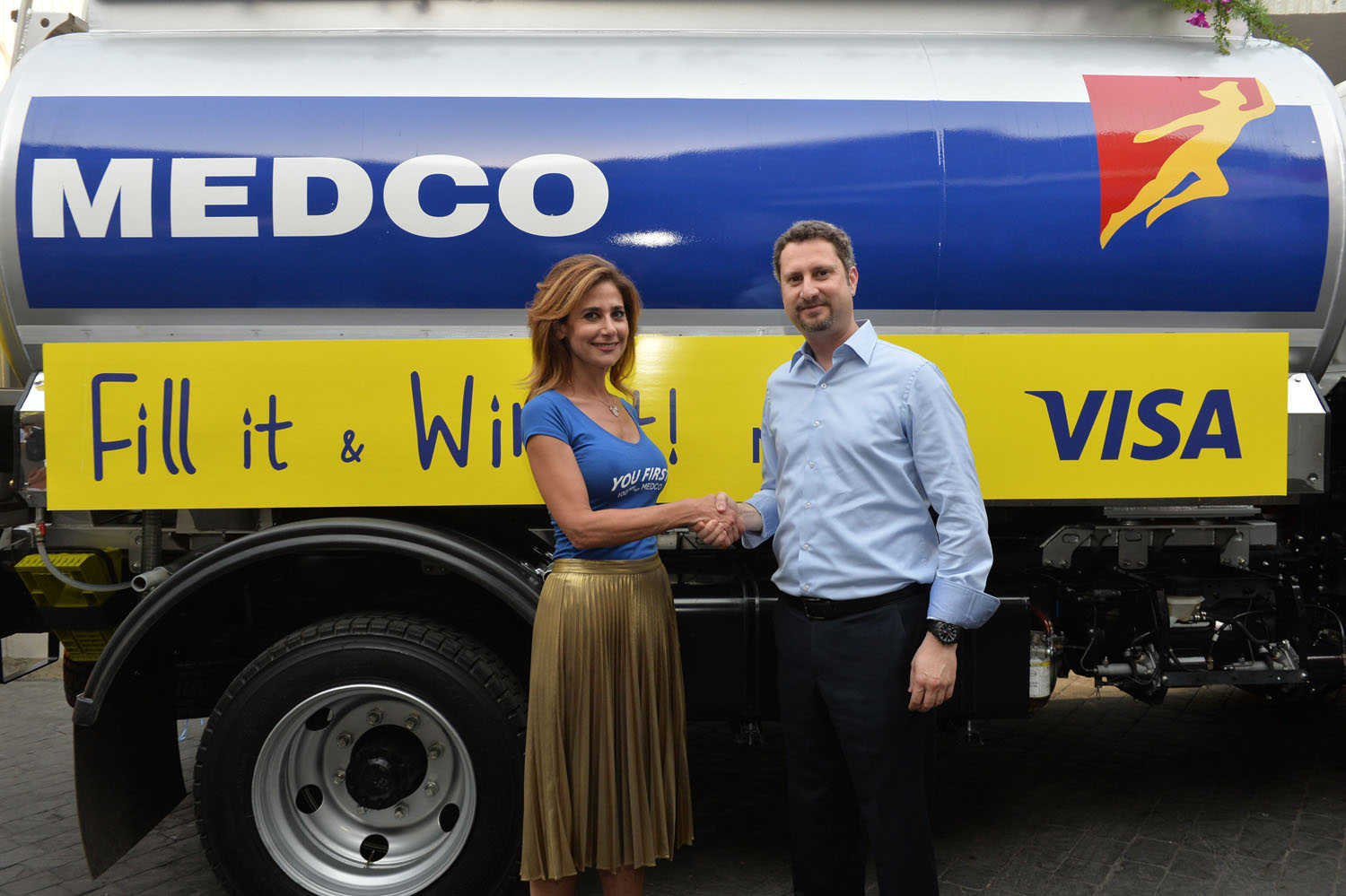 Visa (NYSE:V), the global payments technology company, and MEDCO are bringing back their successful "Fill it & win it!" campaign to support the move towards cashless spending in Lebanon. Offering consumers the chance to win meaningful rewards on their fuel spends, the initiative aims to encourage a seamless cashless culture in the country, and advance its economy.
Until October 15 of this year, Visa cardholders will receive a free drink every time they spend LBP25,000, and a free car wash for every transaction worth 50,000 LBP. The top five cumulative spenders during the campaign will win free fuel for a whole year across all MEDCO and Phoenicia stations in the country.
Nabil Tabbara, General Manager for Levant, Visa, commented: "With fun and engaging campaigns, Visa seeks to make cashless the preferred option for consumers. Payments should be simple and easy, including those made for everyday spends such as filling up on gas, and we are happy to collaborate with a likeminded partner and one of the Lebanon's leading distributions to enhance the payment experience for the country's residents."
Michèle R. Chammas Garzouzi, MEDCO Group Marketing and Retail Sales Director said: "For the second year in a row, MEDCO and Visa proudly renew their partnership for another exciting Summer! Customers simply have to refill their fuel using their Visa cards to win immediate rewards making this more of a Camp-gain than a Campaign. From MEDCO's Propell Quality petrol, to a free drink or free car wash, to the convenience of driving cashless across 196 MEDCO and Phoenicia service stations across Lebanon, and all the way to year's worth of free gasoline,  for the highest Visa 'Gasoholic', MEDCO's  'You First' focus offers customers a visa to 'Rewardland'."
The 2017 edition of "Fill it & win it!" was launched yesterday at the MEDCO Chevrolet where members of the media were driven around Beirut in MEDCO trucks to demonstrate the campaign. The announcement is aligned to Visa's consistent efforts of encouraging the use of digital payments in the region, via strategic partnerships and promotional engagement, offering its cardholders a hassle-free, secure, and speedy payment experience.
Recognizing the net benefits for merchants as well when they reduce dependency on cash transaction, Visa is encouraging and helping merchants, in the region and across the globe, to go cashless by using innovation to their advantage in order to stay competitively connected to their customers.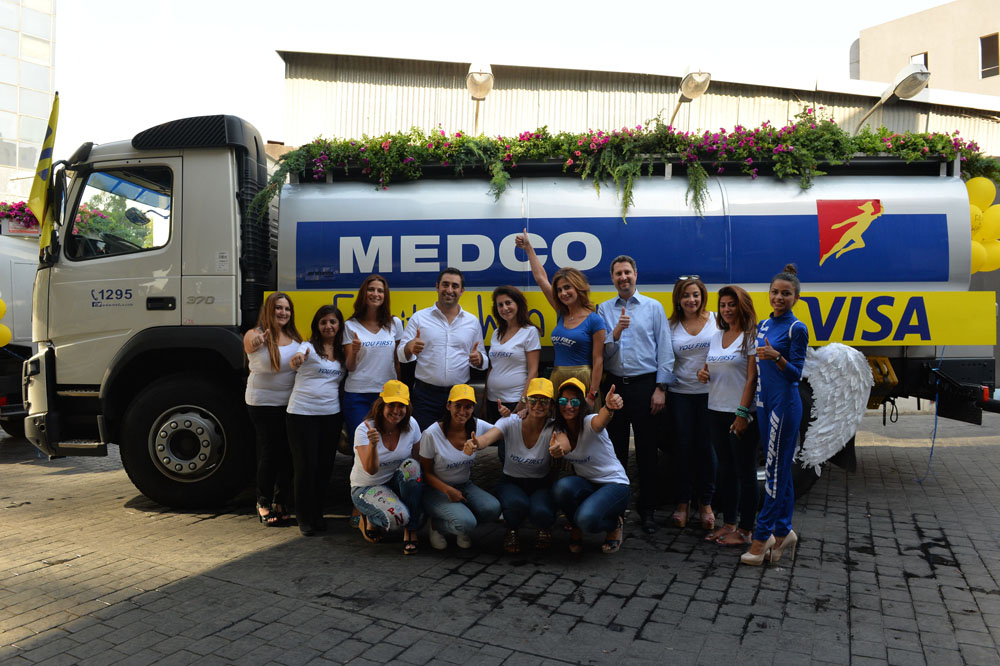 About Visa Inc.
Visa Inc. (NYSE: V) is a global payments technology company that connects consumers, businesses, financial institutions and governments in more than 200 countries and territories to fast, secure and reliable electronic payments. We operate one of the world's most advanced processing networks — VisaNet — that is capable of handling more than 65,000 transaction messages a second, with fraud protection for consumers and assured payment for merchants. Visa is not a bank and does not issue cards, extend credit or set rates and fees for consumers. Visa's innovations, however, enable its financial institution customers to offer consumers more choices: pay now with debit, pay ahead of time with prepaid or pay later with credit products. For more information, visit www.visamiddleast.com, visanewsmena.tumblr.com or follow us on Twitter @Visamiddleeast 
About MEDCO
MEDCO is an importer and distributor of Quality refined petroleum products and the leading Lebanese Petroleum Company. Its roots go back to 1910, established by Georges N. Chammas (Ets. GNC) Its driving mission is to fuel the market with innovation and customer oriented value-added services. First in the region to import bulk gasoil by tankers, MEDCO introduced to the Lebanese Market electronic pumps,  Liters Plus fuel credit and loyalty smart card serving 65% of the corporate market share, Convenience Stores branded Medmart, electronic flow meters for digital gasoil distribution, Xpand red gasoil, environmentally friendly Propell Gasoline enhanced with additives for a cleaner engine and first CSR loyalty program for NGOs with the Sharing Card. MEDCO distributes refined Petroleum products to over 200 service stations across Lebanon. For more information, visit www.medco.com.lb  or follow us on Facebook  MEDCO SAL.
Categories