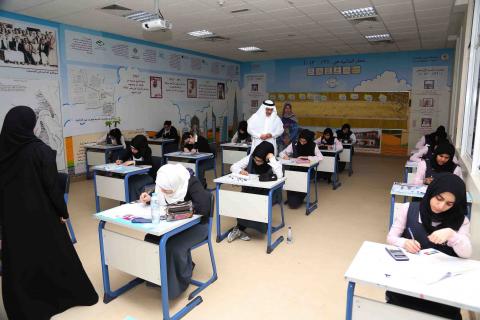 H.E. Humaid Al Qatami visits Dubai schools to inspect on examination procedures and facilities  
UAE, June 16, 2014 - H.E. Humaid Mohammad Al Qatami, Minister of the UAE Ministry of Education stressed on the importance of instilling today's students with more awareness on the importance of excellence and creativity - key foundations in preparing them for their future - during his recent visit to various schools in Dubai to inspect examination procedures and facilities allotted for students. Minister Al Qatami pointed out the significance of implementing thorough examination procedures along with the development of efficient examination papers, which has greatly helped in the ministry's objective of identifying learning levels of each student and the skills that they have acquired. The administered examinations are used as key index points in evaluating the education process and interaction of each student from a class room level.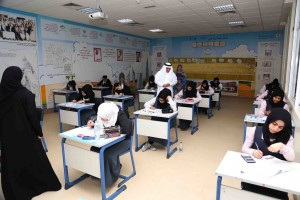 Minister Al Qatami lauded the ministry's various departments, educational zones and the administrative officials of schools for their efforts in providing students with rooms that are conducive to executing the examinations for students. Moreover, he urged the students to continue with the drive to achieve success and practice a culture of excellence—adhering to the set curriculum and training programs offered by the MoE. He also reminded students to use only accredited and recognized literary materials in studying, particularly in preparation for their examinations.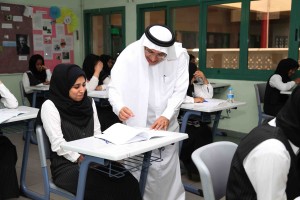 Minister Al Qatami was accompanied by Mouna Ahmed, Deputy Manager of the Dubai Educational Zone during his visit to schools in the emirate, which included the Princess Haya Bint Al Hussein School for Girls, the Al Maaref High School for Boys and the Sukaina Bint Hussein School for Girls. The minister was given a briefing on exam procedures and how the three schools will be administering the examinations. The Princess Haya Bint Al Hussein School for Girls will also serve as an examination venue for students of Al Alam Al Jadeed School, while Al Maaref High School for Boys will serve as the examination venue for students from Al Ahlia School and Al Thuraya School.
On hand to meet Minister Al Qatami during the inspection were, school principals Salama Bu Shibab, Princess Haya Bint Al Hussein School for Girls; Mohammed Al Mass, Al Maaref High School for Boys and Sharifa Azzam, Sukaina Bint Hussein School for Girls. The MoE minister noticed that the students taking the examinations this year looked more determined and performed comfortably when moving from one question to another.
A total of 37,000 high school students took their Physics and History examinations for the third trimester on Saturday, June 14, 2014. Looking to inspire the students before the actual examinations, Minister Al Qatami talked about the future, including the scientific disciplines required for sustainable development and the importance of success and excellence. He further encouraged them to use their talents and capabilities and to work hard to achieve a better future for them and for their country as they contribute in its growth and prosperity.
Categories