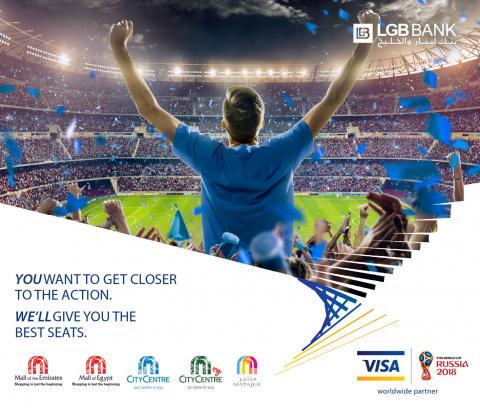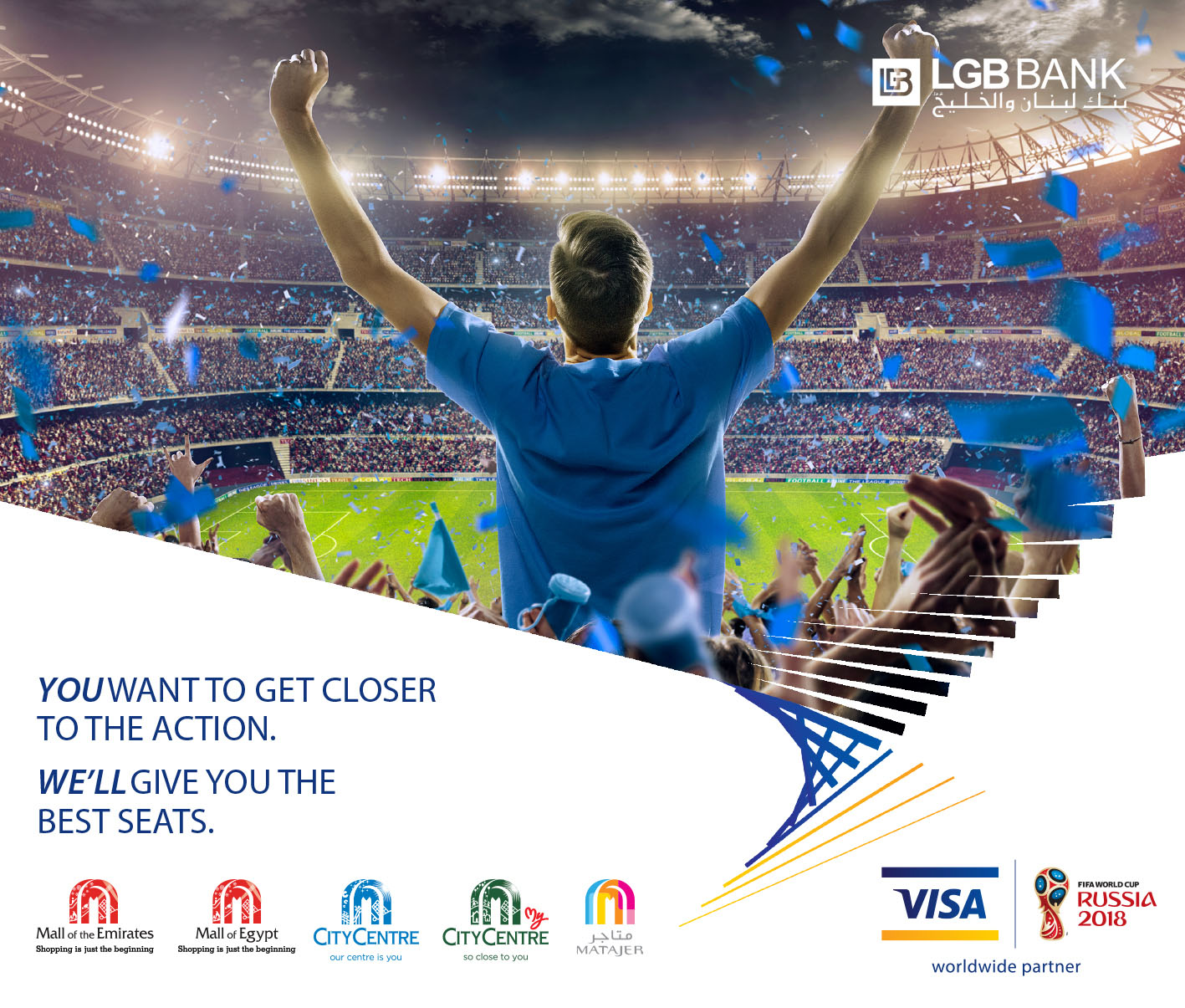 LGB BANK, in cooperation with Visa International, launched the World Cup campaign to reward its customers by offering an all expenses paid trip to attend the 2018 World Cup in Russia using Visa cards issued by LGB BANK at Majid Al Futtaim Centers in the Middle East and North Africa.
The campaign will reward Visa cardholders with seven packages for the opening ceremony, four in the group stage and one in each of the quarterfinals.
From now until December 25th, Visa cardholders will be able to enter the draw once they have spent at least $ 100 or more using their Visa Card at City Center - Beirut and many other malls in the Middle East and North Africa such as Mall of the Emirates, City Center Muscat, City Center Bahrain and Egypt Mall.
"The campaign falls within the Bank's keenness to reward its Visa cardholders and offer them a unique experience," said Mr. Samer Itani, Vice- Chairman & CEO of LGB BANK.
It's worth mentioning that LGB BANK came in second place among Lebanon's Alpha Group banks in terms of Deposits' growth in 2016 which increased by 14.6%, to reach 5,367 billion Lebanese Pounds. The Bank also came third in terms of Assets' growth which rose by 14.9% or 6,193 billion Lebanese Pounds, while maintaining a high liquidity status. In terms of Net Profit, LGB BANK registered a growth rate of 15.6% valued at 53.4 billion Lebanese Pounds. Equity grew by 9.4%, around 528 billion Lebanese Pounds, which further enhanced the Bank's solvency and increased its capacity to face risks. Finally, the Bank registered a 4.1% growth in Loans, a rise valued at 2,172 billion Lebanese Pounds.
Moreover, LGB BANK offers its customers a variety of currency credit cards that enable them to avoid exchange rate charges while travelling. In addition to the US dollar and LBP credit cards, the Bank provides cards in UAE Dirham, Turkish Lira, Saudi Riyal, Euro, and Sterling Pound, as well as other elite cards such as the Black Card, the Visa Infinite Card, and the Visa Signature Card. Credit cardholders also benefit from the Miles Program which enables them to collect miles (1.5 mile for every 1 dollar spent or equivalent) every time they use their card at points of sale, with the possibility of exchanging them for airplane tickets to more than 55 destinations. Additionally, Cardholders can benefit from an exclusive Loyalty Program which grants them an opportunity to collect points and redeem them in cash or exchange them for valuable gifts.
Furthermore, LGB BANK presents a number of value-added banking services such as Banking by Night, Mobile Banking and E-Banking, all abiding by the highest safety and technology standards, as well as a host of social media channels.
In terms of products, the Bank offers a comprehensive range of innovative and modern banking products through a network of 18 branches in Lebanon, in addition to a Cyprus branch and a Representative Office in Dubai. LGB BANK's continuous efforts towards further enhancing its standing as one of Lebanon's Alpha banks and one of the biggest Lebanese banks have earned it many awards including: the World Arab Banking Executive Award for Excellence in the field of E-Banking and Mobile Banking  by the World Union of Arab Bankers, the MEFTECH Award for the "Best Retail Bank", "Best Financial Transformation", "Best Credit Card" and "Best Co-branded Card" Awards by CPI Financial's Banker Middle East Magazine, as well as "The Fastest Growing Commercial Bank in Lebanon" Award and "Best Bank for Investor Relations in Lebanon" Award by Global Banking and Finance Review. Today, the Bank continues to pursue more prestigious awards that testify to the institution's numerous achievements in all fields.
Categories