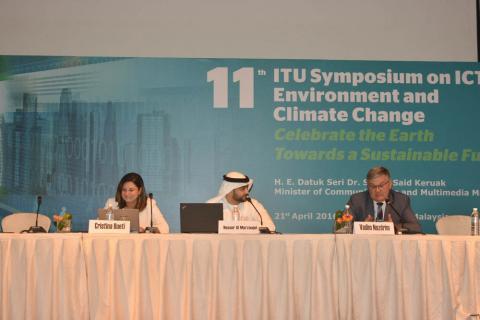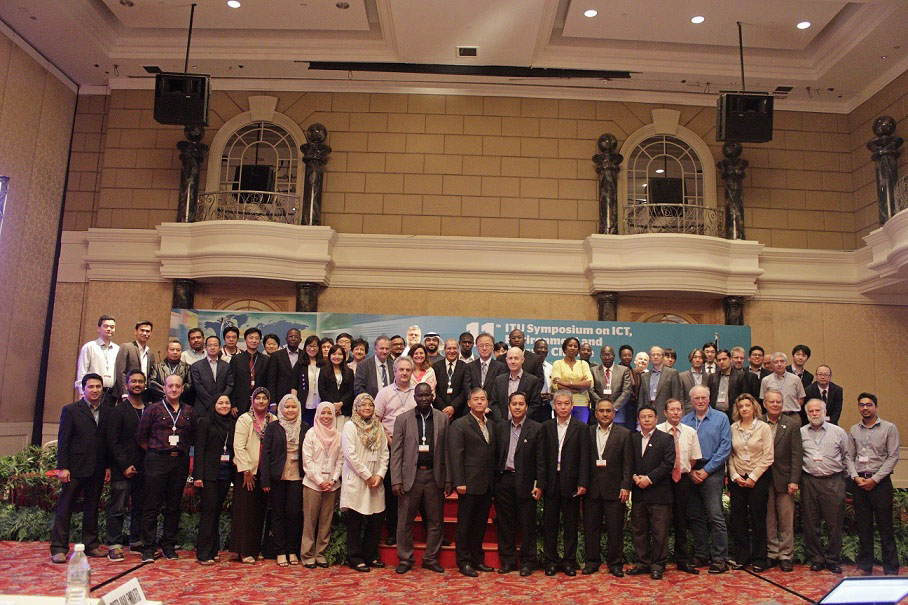 The Telecommunications Regulatory Authority (TRA) and Smart Dubai Office recently participated in the Study Group 5 meeting under the standardization sector of the International Telecommunication Union (ITU). The sessions were held in Kuala Lumpur, Malaysia during the 11th Symposium on ICT, Environment and Climate Change hosted by Malaysian Communications and Multimedia Commission. Attended by more than 300 participants, the symposium aimed to spread awareness within the Environment and Climate Change sectors and identified ideal ways to address the challenges faced by these vital sectors. It encouraged stakeholders to adopt the latest solutions for harnessing smart, innovative and sustainable tools to serve humanity.
Mr. Mohamad Ali Hanafiah Mohamad Yunus, Chief Officer for Content, Security and Innovation at the Malaysian Communications and Multimedia Commission, opened the symposium in the presence of Mr. Chaesub Lee, Director of ITU's Telecommunication Standardization Bureau (TSB), and Mr. Dato' Johari, Deputy Minister of the Malaysian Communications and Multimedia Commission. Four sessions were held later on, the first focusing on the role of policies and standards for managing electromagnetic fields and the second discussing how to protect telecommunication devices from disasters such as lightning strikes. The third session was headed by the TRA as represented by Eng. Nasser Al Marzouqi, the UAE's representative to the ITU in Geneva and Vice Chairman of Study Group 5, and focused on ITU activities geared towards development and sustainability goals. The fourth session discussed ways to achieve environmental sustainability and Noora Al Suwaidi, Head of Strategy and Performance Management at Smart Dubai Office, was a speaker in this session and she introduced H.H. Sheikh Mohammed Bin Rashid Al Maktoum, Vice President and Prime Minister of the UAE and Ruler of Dubai, initiative to transform Dubai into a 'smart city.' She shared Smart Dubai's plans and goals as well.
More than 150 entities from ITU member countries, academic organizations, sector members and related regional and global entities participated in the Study Group 5 meeting where more than 105 contributions were introduced. The UAE showcased a number of contributions related to the performance indices of smart cities. The meeting was chaired by Mr. Ahmed Zeddam, Chairaman of ITU-T Study Group 5. It adopted new recommendations and amended others, and discussed how to limit electronic wastes as well as the role of ITC in this regard. Also discussed and approvedthe Key performance indices of smart and sustainable cities, human exposure to electromagnetic fields, the effects of electromagnetic fields on human safety, the protection of telecommunications devices from disasters such as lightning strikes, and combat counterfeiting.
ITU-T Study Group 5 (SG5) is responsible for studies on methodologies for evaluating ICT's effects on climate change and for publishing guidelines on the eco-friendly use of ICT. As part of its environmental mandate, SG5 is also responsible for studying design methodologies for reducing the adverse environmental effects of ICTs through recycling of ICT facilities and equipment, for example.
ITU-T SG5 has four main objectives. The first is to protect telecommunications equipment and installations against damage and malfunction due to electromagnetic disturbances, while the second is to ensure the safety of personnel and users of networks against the current and voltages present in telecommunication networks. The third is to avoid health risks from electromagnetic fields (EMFs) produced by telecommunication devices and installations, and the fourth is to guarantee good quality of service (QoS) for high-speed data services by following the requirements for copper cable characteristics and the coexistence of services delivered by different providers.
Categories