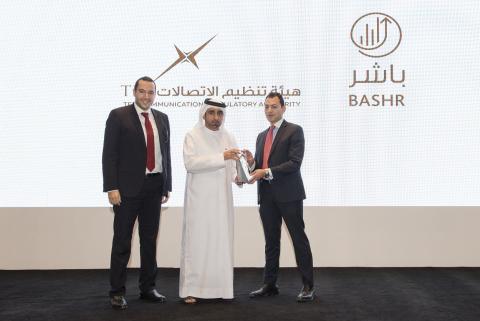 UAE mGovernment service 'Bashr' runs completely on Software AG's webMethods Business Process Management Software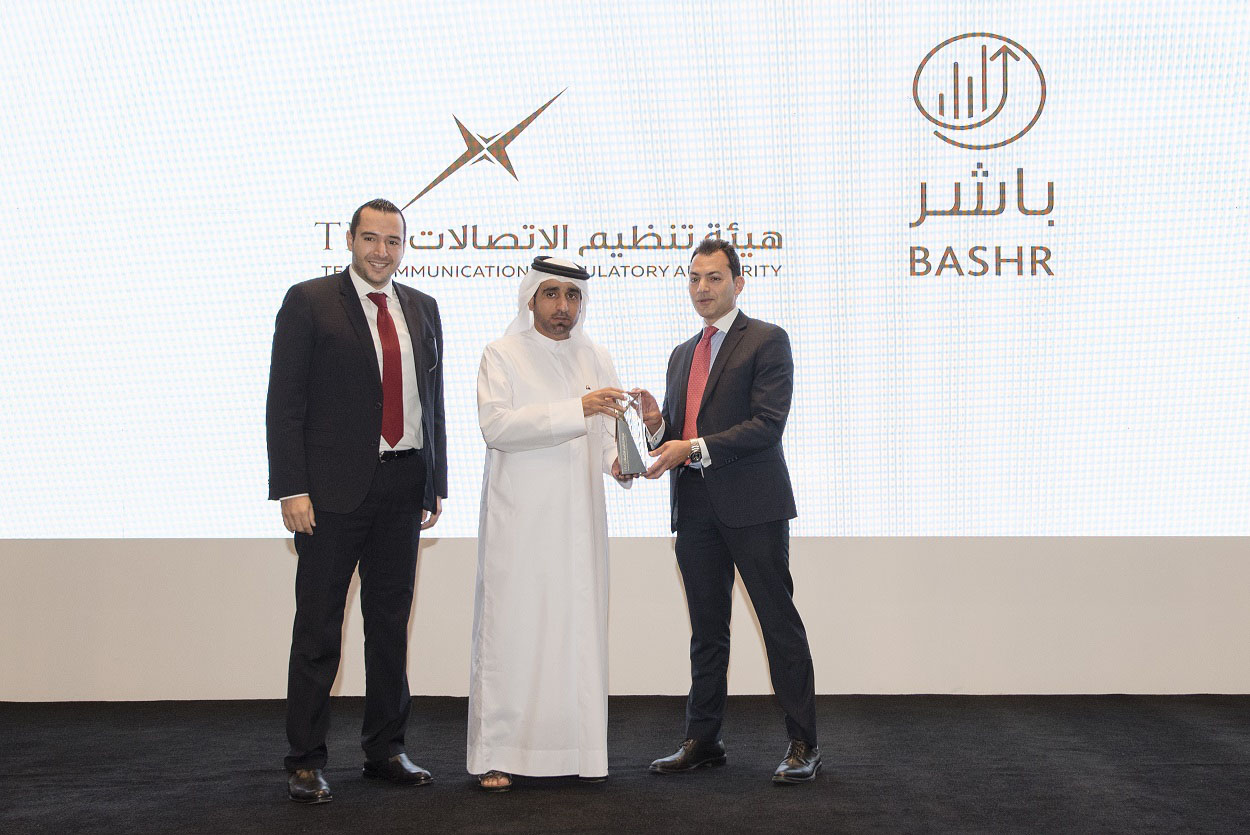 From left to right:
Ali Baydoun, UAE Government Lead, Software AG
H. E. Hamad Obaid Al Mansoori, Director General of the TRA
Rami Kichli, Vice-President Software AG- Gulf and Levant
In recognition of its contribution to the Telecommunications Regulatory Authority's (TRA) latest initiative, called 'Start Your Business in 15 Minutes – Bashr', Software AG was presented a commemorative trophy by the Authority.
The Director General of TRA, H. E. Hamad Obaid Al Mansoori, presented the award to Rami Kichli, Vice President, Software AG - Gulf and Levant, during the launch of the first phase of the Bashr initiative in recognition of Software AG's role.
The Bashr initiative is based on the UAE vision to enhance the business environment to build a competitive, knowledge-based economy. It aims to make the UAE the economic, touristic and commercial capital for more than 2 billion people, by providing and developing specific world-class initiatives with international standards and a stimulating regulatory environment that attracts investments. The initiative will play a significant role in promoting UAE's reputation as a business hub that supports setting up new businesses in easy, simple steps that take no more than 15 minutes.
TRA selected Software AG webMethods Business Process Management Software (BPMS) to build a platform that can manage, automate, and orchestrate all processes that span across the UAE's government agencies. 'Bashr,' is one such service provided by the UAE mGovernment, which runs totally on Software AG's webMethods BPMS.
The TRA have already been successfully using Software AG's webMethods ESB (Enterprise Service Bus) to streamline integrations since 2015, and thererfore decided to adopt the company's webMethods BPMS for the 'Bashr' initiative. webMethods BPMS provides a complete solution for building, deploying and monitoring business-process-centric applications. In addition to eliminating manual process steps to reduce occurrence of errors and accelerating processes while driving down costs, it also ensures transparency by monitoring performance throughout process execution.
Mohammed Al Khamis Program Director – UAE Smart Government  in TRA, said: "Our trust and confidence in Software AG's solutions in facilitating key business processes were reiterated by our successful collaboration in 2015. We are truly glad and satisfied with the capabilities of Software AG's webMethods BPMS in supporting the 'Bashr' project."
Rami Kichli, Vice President, Software AG - Gulf and Levant, said: "The successful collaboration with TRA for the launch of 'Start Your Business in 15 Minutes – Bashr' initiative reflects Software AG's commitment to continuously supporting the government in enhancing the UAE's business environment and thereby contributing to the achievement of the objectives of the National Agenda for UAE Vision 2021. The service will be a significant addition to the wide array of mGovernment services provided by the UAE government and will play a key role in attracting more investors to the country. Software AG is proud to have played a role in the development of this project, which operates on a comprehensive, nationwide scale, involving federal and local functions."
Software AG's webMethods BPMS is an integral part of the Digital Business Platform and has gained substantial customer adoption with its broad portfolio and its most recent product developments that support enterprises at every stage in their digital transformation. The Digital Business Platform is an adaptable technology layer that fits into, but does not replace, an organization's existing IT landscape. It enables a readiness that allows for the rapid adoption of current and future technologies and market disruptions with a platform for the ever-evolving digital world. Based on a single architecture and release cycle, the Software AG solution is an integrated platform enabling multiple digital use cases.
About Software AG 
Software AG (Frankfurt TecDAX: SOW) helps companies with their digital transformation. With Software AG's Digital Business Platform, companies can better interact with their customers and bring them on new 'digital' journeys, promote unique value propositions, and create new business opportunities. In the Internet of Things (IoT) market, Software AG enables enterprises to integrate, connect and manage IoT components as well as analyze data and predict future events based on Artificial Intelligence (AI). The Digital Business Platform is built on decades of uncompromising software development, IT experience and technological leadership. Software AG has more than 4,500 employees, is active in 70 countries and had revenues of €879 million in 2017.
Categories