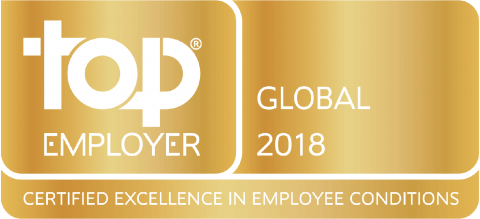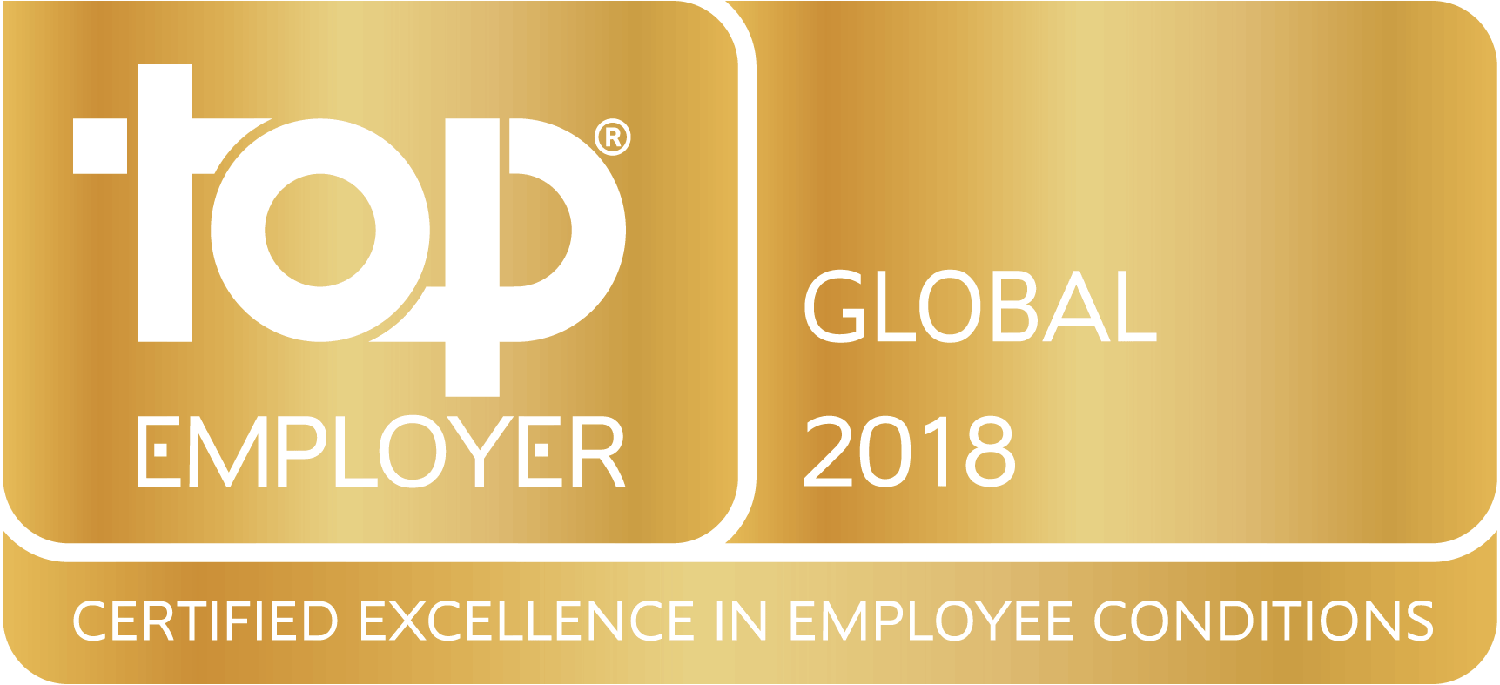 Takeda Pharmaceutical Company Limited [TSE: 4502], ("Takeda") today announced it has become part of a select group of only thirteen (13) companies and one of two pharmaceuticals to receive global Top Employer® status for 2018. Established over 25 years ago, award certification is given annually by the Top Employers Institute to companies with exceptional employee offerings. The program is organized and designed by the Institute to recognize those that create optimal conditions for their employees to develop professionally and personally, and that achieve the highest standards of excellence for their people.
To be certified globally at least 20 countries, four regions and the applicant company's global headquarters all needed to be certified by the Top Employer Institute, which Takeda has achieved this year.
"We'd like to thank the Top Employers Institute for recognizing Takeda for the corporate culture we have created," commented David Osborne, Takeda's Global Human Resources Officer. "Our focus on patients, combined with our values to act with Integrity, Fairness, Honesty and Perseverance, create a dynamic environment that our people feel strongly about and in which they are empowered to shine."
The Top Employers Institute assesses company offerings to their employees. It covers 600 HR practices across the following areas:
| | |
| --- | --- |
| Ÿ   Talent Strategy | Ÿ   Leadership Development |
| Ÿ   Workforce Planning | Ÿ   Career & Succession Management |
| Ÿ   On-boarding | Ÿ   Compensation & Benefits |
| Ÿ   Learning & Development | Ÿ   Culture |
| Ÿ   Performance Management | |
"Takeda really stands out as a global Top Employer for its commitment to people development," said David Plink, CEO of the Top Employers Institute. "The learning opportunities provided, which enhance the employee journey and are centered on enabling employees to reach their personal professional goals, are first-class and a real differentiator."
Takeda met the tough requirements of the Top Employers Institute, receiving accreditation in more than 20 countries and regions, across four geographic areas, namely:
Asia Pacific: Australia, China, Hong Kong, Indonesia, Japan, Malaysia, Philippines, Singapore, South Korea, Taiwan and Thailand
Europe: Ireland, Russia, Spain, Turkey and Ukraine
Latin America: Argentina, Brazil, Colombia, Ecuador, Mexico, Peru and Venezuela
North America: Canada and United States
South Africa
"At Takeda, we are passionate about providing the right environment so our people can learn and progress their careers," said David Osborne. "We endeavor to provide diverse learning opportunities across more than 70 countries through programs at institutions such as Oxford University, Massachusetts Institute of Technology (MIT), Wharton and INSEAD, as well as by establishing mentoring relationships with our most senior leaders."
To learn more about the Top Employers Institute and the Top Employers certification visit: www.top-employers.com.
About Takeda
Takeda Pharmaceutical Company Limited is a global, research and development-driven pharmaceutical company committed to bringing better health and a brighter future to patients by translating science into life-changing medicines. Takeda focuses its R&D efforts on oncology, gastroenterology and neuroscience therapeutic areas, plus vaccines. Takeda conducts R&D both internally and with partners to stay at the leading edge of innovation. New innovative products, especially in oncology and gastroenterology, as well as Takeda's presence in emerging markets, are currently fueling the growth of Takeda. Approximately 30,000 Takeda employees are committed to improving quality of life for patients, working with Takeda's partners in health care in more than 70 countries. For more information, visit https://www.takeda.com/newsroom/.
Categories