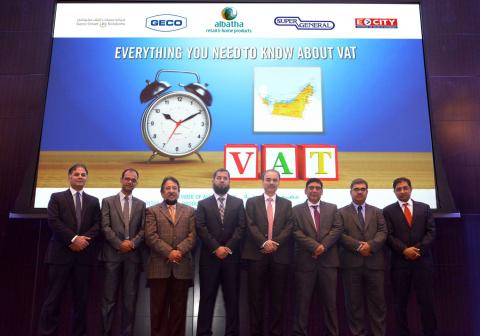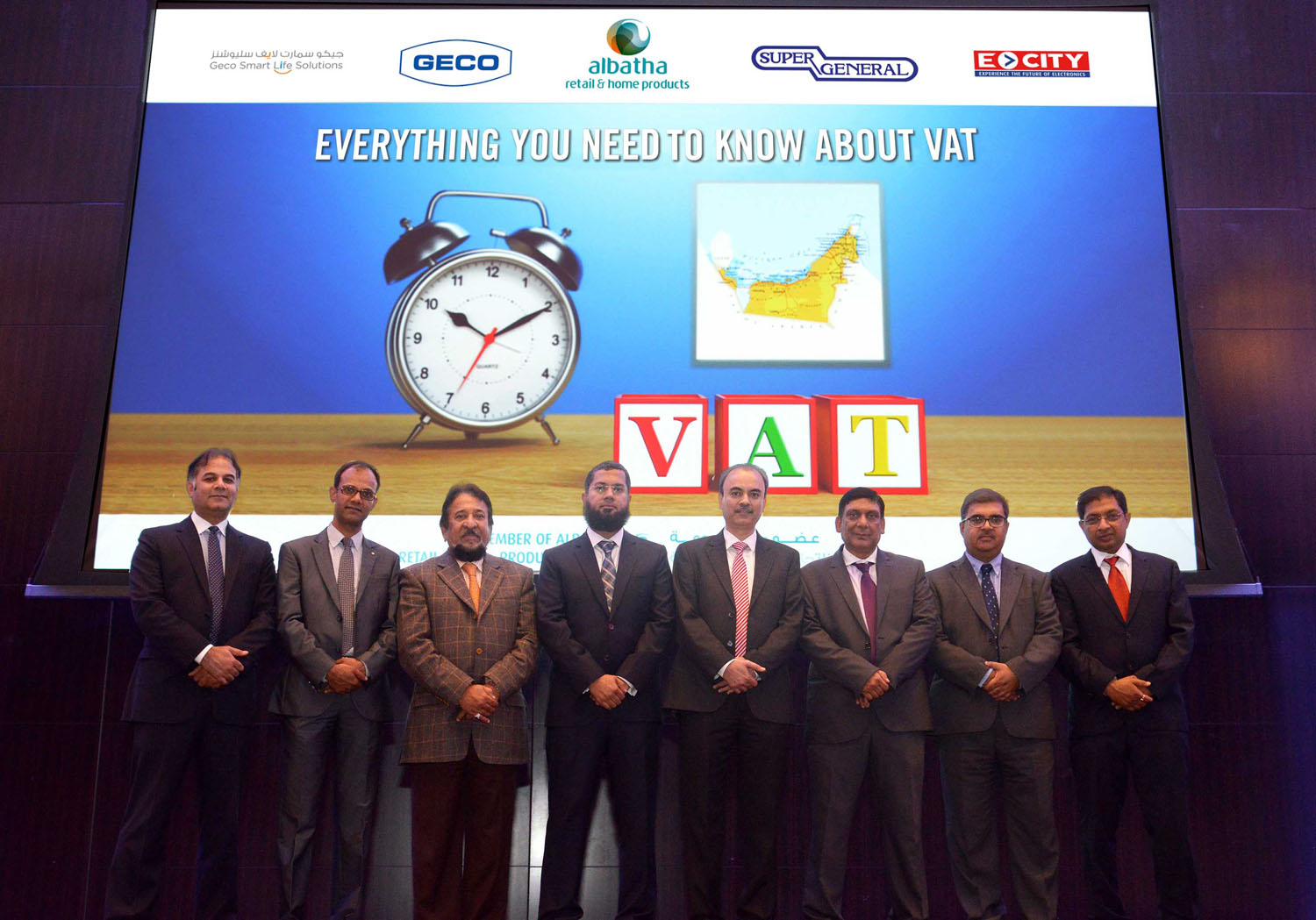 200 SME dealer network participants take part in event under theme, 'Everything you need to know about VAT' 
 Super General Company and General Enterprises Company (GECO), part of Albatha Retail & Home Products Group, successfully organized a seminar aimed towards increasing awareness on the coming implementation of Value Added Tax (VAT) in the UAE at the Le Meridien Hotel. The event, which was attended by over 200 representatives of 90 SME dealers from the two companies, was held under the theme, 'Everything you need to know about VAT.'
The one-day seminar helped in creating a better understanding of VAT in terms of how companies can prepare for its implementation and how they can roll it out across their operations. The event, which was facilitated by Ahmed Hasan, Finance Controller-Tax & Compliance, Albatha Holding, focused towards educating the attendees about VAT--its registration process, invoicing and accounting procedures.
"As a group, we have prepared ourselves for VAT implementation. However, we realized that our trade partners needed help in understanding VAT and support in getting prepared for its implementation," said Hakimuddin Kurban Husein (Hakim Sarpanch), Managing Director, Albatha Retail & Home Products Group. "This initiative is aimed at familiarizing the participants with all things related to VAT--its registration procedure and implementation process associated with the new tax and its potential impact on the UAE business community. This effort falls in line with our Group's values and our commitment in supporting our trade partners while ensuring compliance with all UAE regulations."
Albatha Retail & Home Products Group compromises of; Ecity, GECO, GECO Smart Life Solutions & Super General. It is part of the reputable Albatha Holding, a Shariah-compliant organization that comprises of over 25 companies with over 7,000 employees spread across seven industry sectors i.e. automotive, consumer, engineering, home products, real estate, healthcare, household and personal care. Albatha has marked a strong presence in the Middle East and North Africa (MENA) region through a distribution network that expands from the Indian sub-continent to Europe. Albatha represents over 200 international corporations serving them with their business and branding needs in the most effective and professional manner.
About Super General Company
Super General is a global brand serving millions of homes worldwide with its diverse range of home appliances and electronics. The company's diverse product range meets the need of every household and lifestyle requirement. Today, the company is under the Albatha Retail & Home Products Group, a part of the Albatha Holding, a Shariah-compliant organization that comprises of over 25 companies. Super General manufactures its products across 15 countries with a distribution network spanning across 40 countries. It's diverse manufacturing sources & their R&D facilities help in offering the most innovative products utilising the latest manufacturing technologies and quality control processes. 
About GECO
General Enterprises Company (GECO), part of Albatha Group, was established in the 1950's. GECO is the sole and exclusive distributor in the UAE for a range of consumer electronics and domestic appliance brands like Indesit (Italy), Westpoint (France), Akai (Japan), PRINCESS (Holland), Alcatel (USA), Symphony (India), Aux (China). GECO operates a strong countrywide dealership network, supported by fully equipped state-of-the-art service centres as well as custom-built modern warehouses with a large fleet of vehicles and strategically placed showrooms across the country. The company is recognised throughout the UAE as the first choice for discerning buyers in all segments for home entertainment products and domestic appliances.
Categories