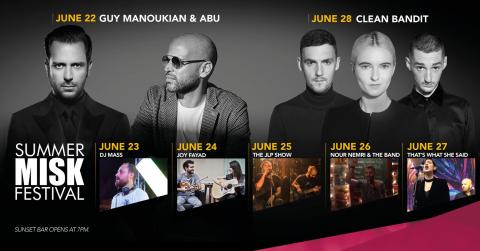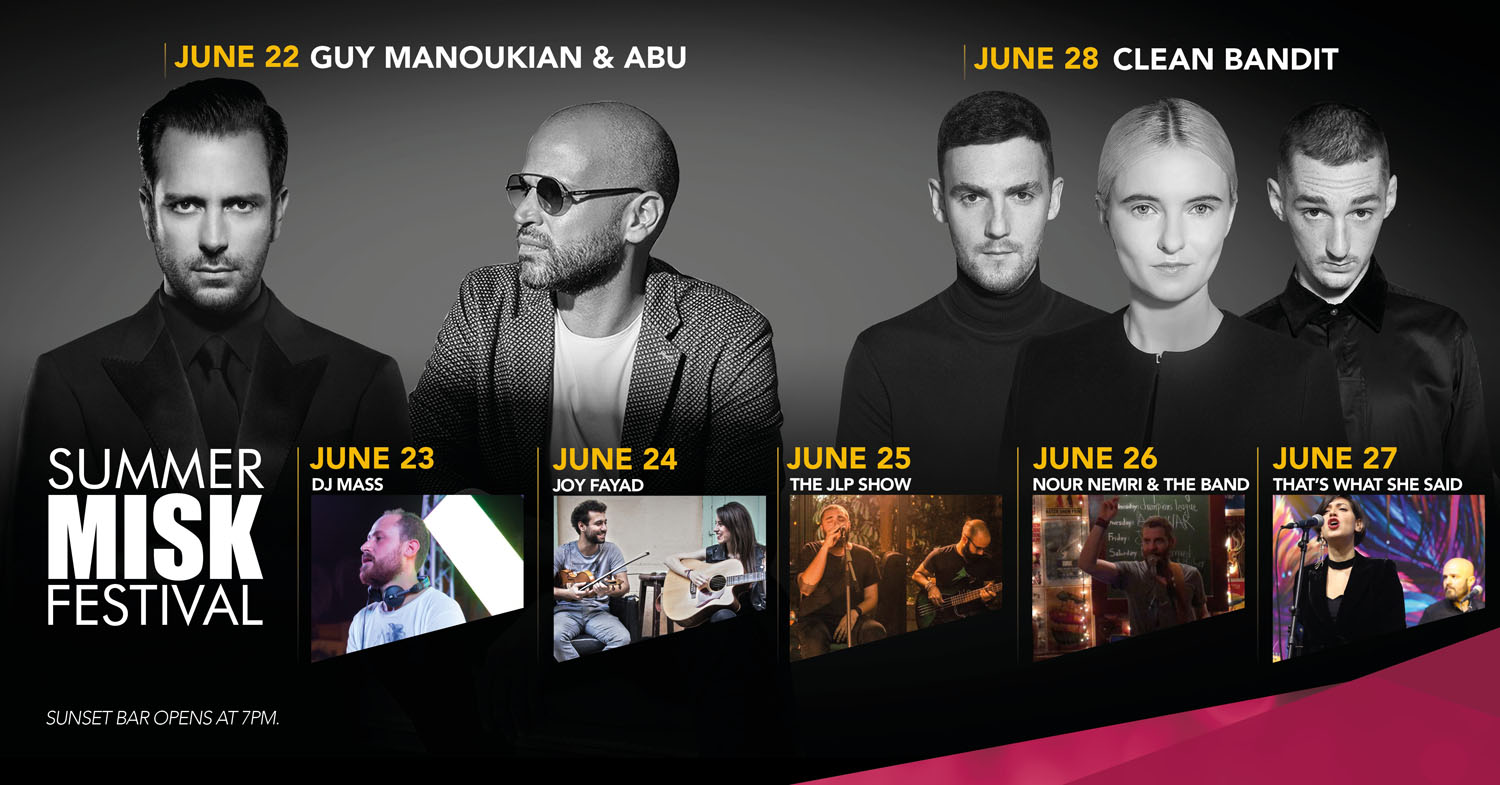 The Summer Misk Festival's fifth edition, taking place from the 22nd of June till the 28th, is expected to be the best one yet. The opening night will host the renowned musician, composer and pianist, Guy Manoukian, who will be performing together with Egyptian superstar, Abu. On the closing night, Grammy award-winning band Clean Bandit will hit the Summer Misk Festival stage.
For the first time ever, the festival will showcase some of Lebanon's most talented local bands, giving them the opportunity to perform in front of a large audience as a way of encouraging local talents and their participation in international festivals.
On June 22nd, Guy Manoukian, who has been a key musical player both locally and internationally, is considered to be one the world's leading musicians. He is mostly known for having acquired his own method of non-traditional piano playing, as well as his charismatic presence on stage and his love for engaging his fans throughout.
Accompanying Manoukian on stage for dynamic duo performance is the man behind the hit single "3 Daqat," Abu. The single, featuring famous movie start, Yusra, was first released at the Gouna International Film Festival and has been a huge success nationally and regionally.
On June 28th, Britain's mot in-demand electro-pop band, Clean Bandit, will be the closing act for Summer Misk Festival. The international band significantly grew into the global scene with songs that have topped international charts, and have sold over 13 million singles and 1.6 million albums worldwide.  Known for their Grammy award winning single "Rather be," their number one songs on international charts include "Tears," "Symphony," "I miss you" and "Rockabye," featuring rapper Sean Paul and singer Anne-Marie.
During the remaining days of the festival, from June 23
rd
to the 27
th
, the festival attendees will enjoy a variety of entertaining performances by local Lebanese bands, while indulging in some of the best foods and drinks in the now renowned festival's food court and sunset bar.
"Every year, Summer Misk Festival in BeitMisk manages to establish itself as a prominent destination for festival goers in Lebanon and the region," said Sarah Zard Manoukian, President of the Summer Misk Festival. "As experiences go, the festival remarkable location, only 10 minutes from Dora highway in one of Lebanon's most beautiful areas, is able to push the boundaries as a cultural and artistic outlet to all music lovers, from the young to the old," she added.
Categories