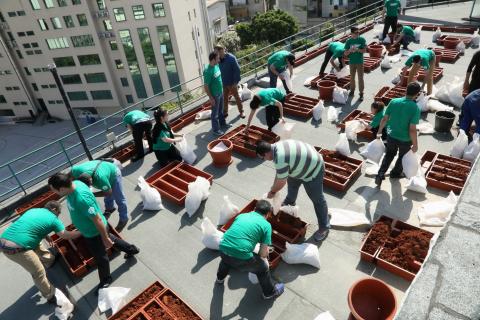 Beirut, May 14, 2014
– Starbucks partners (employees), in collaboration with
LEED
Green Associate
transformed the rooftop of Sagesse High School Ashrafieh into an edible green roof as part of Starbucks' second annual Global Month of Service; which aims at mobilizing employees and customers to get involved in community service.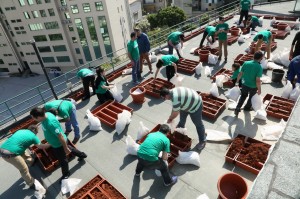 This year's activity, which was aimed at increasing awareness about environmentally-friendly and organic gardening practices among school students, involved 65 Starbucks partners and students from the school who have jointly contributed with 390 volunteering hours supporting the initiative.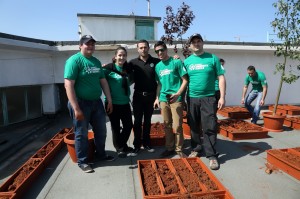 Commenting on the Global Month of Service activity, Regional Communications and CSR Manager for Starbucks MENA, Rana Shaheen, said: "Starbucks is all about inspiring human connections that create positive impact on the people we serve. With the GMOS initiative, we have grown from in-store service into community neighbours; making our job roles even more valuable and rewarding. It was also wonderful to see the families of Starbucks' partners contribute in the GMOS with the same passion and energy".
In addition to its Global Month of Service, Starbucks also runs a Community Connections Programme, which has been running for the past five years across 10 markets in the Middle East. This programme involves a wide range of community projects, including partnerships with local youth groups, municipalities, schools, government agencies and health organisations.  Please visit mena.starbucks.com  to see how you can get involved with Starbucks in strengthening your community.
Notes to the editor:
About Starbucks
Since 1971, Starbucks Coffee Company has been committed to ethically sourcing and roasting the highest quality arabica coffee in the world. Today, with stores around the globe, the company is the premier roaster and retailer of specialty coffee.
Through our unwavering commitment to excellence and our guiding principles, we bring the unique Starbucks Experience to life for every customer through every cup. To share in the experience, please visit us in our stores. To learn more about Starbucks, go to www.starbucks.com.
Categories