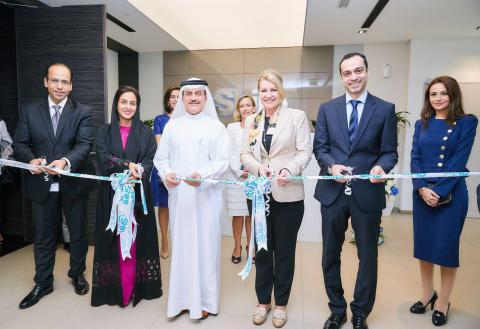 In the presence of H.E. Dr. Amin Hussain Al Amiri, Assistant Undersecretary of Public Health Policy and Licensing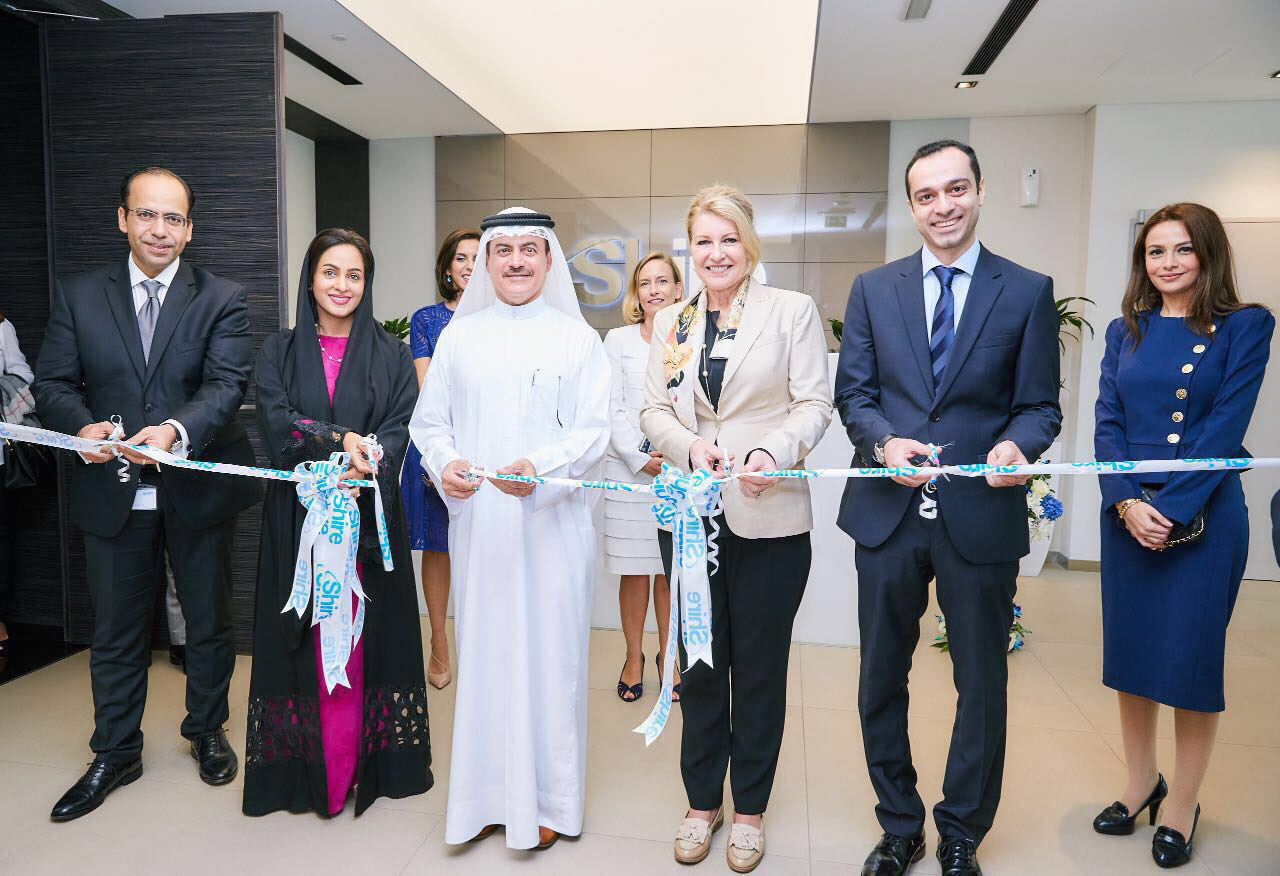 Shire plc (LSE: SHP, NASDAQ: SHPG), the biotech leader in rare diseases, formally opens its new office in Dubai, United Arab Emirates (UAE), in the presence of H.E. Dr. Amin Hussain Al Amiri, Assistant Undersecretary of Public Health Policy and Licensing at the UAE Ministry of Health and Prevention, and Her Excellency Dr. Maryam Matar, Founder and Chairperson of UAE Genetic Disease Association participated in the new office launch as an honorary guest.
The new site will serve as a regional hub for Shire's Eurasia, Middle East and Africa operations (EAMEA), overseeing a network of 10 local offices and activity spanning 30 countries. Nearly one in 20 people living in the region suffer from rare diseases, many of them children. The Dubai hub will support Shire's commitment to accelerating access to life-changing rare disease treatments for patients by helping to strengthen relationships with stakeholders in academic research, clinical practice, regulatory affairs and medical innovation.
It is estimated that around 350 million people worldwide are affected by rare diseases1 – an estimated 2.8 millions of them are across the Middle East.2 Rare diseases are associated with lifelong suffering and a shorter lifespan.3 Nearly 50% of rare conditions begin in childhood, 3 and 30% of children with a rare disease will not live to see their 5th birthday.1
Following Shire's combination with Baxalta in 2016, the company is now recognized as the leading global biotechnology company focused on serving people with rare diseases and highly specialized conditions.  With 24,000 employees worldwide, Shire brings more than 40 therapies to patients in over 100 countries.  Every year, Shire invests over 1.4 billion US dollars in the complex and risky process of developing breakthrough medicines for conditions with high unmet need. Today, Shire's pipeline is the deepest and most innovative in the company's history, with more than 40 clinical trials underway.
Shire is enhancing capabilities and investing in sites and workplaces around the world. The Dubai office is one of the first places in the EAMEA region where employees from both companies Shire and Baxalta will come together as one team.
His Excellency Dr. Amin Hussain Al Amiri, Assistant Undersecretary of Public Health Policy and Licensing, commented:
"We are delighted that Shire has chosen the United Arab Emirates to be the regional hub for its EAMEA operations and share their ambition and commitment to create innovative healthcare solutions that benefit the underserved rare-disease patient community. This aligns with the UAE's Vision 2021 National Agenda of implementing a world-class healthcare system as we continue to drive innovation and improve access to new medicines. Shire's position as the global biotech leader in rare diseases will help us to develop solutions together for the UAE and the wider EAMEA region."
Dr. Alameeri continued:
"The Ministry of Health and Prevention's strategy is to develop a robust regulatory and investment framework that safeguards the intellectual property and innovation across the drug development sector, paving the way for the UAE to become an attractive destination for global pharmaceutical companies who are encouraged to launch their regional operations as well as their logistic distribution hubs. This also provides companies the opportunity to register their treatment and therapies, which will help support patients, and the overall treatment cycle, medical tourism objectives in the UAE. The drug registration process in the UAE allows for the availability of innovative treatment to be ready immediately after being approved from the United States' FDA or the European Medicine Agency as the second or third country in the world."
The total number of scientific offices available in the UAE is 47 offices, which represents leading multinational drug production companies. It is expected that the number of scientific offices increases to 75 by the year 2021, where investments have exceed AED 3 billion annually. Furthermore, there are 18 drug production plants in the UAE with the expectation to have them increase to 34 by the year 2021. The Ministry supports local production facilities by driving strategic partnerships with international manufacturers to produce innovative medicine for the UAE. MOHAP is keen to cooperate with the private sector & build effective partnerships to service the society
Her Excellency Dr. Maryam Matar said: "Shire's commitment to rare diseases, their pioneering work in the research and policy and procedures, in the field of rare diseases is one of the biggest reasons for us to support their presence in the UAE and hence their entry in the Arab world. UAE Genetic Diseases Association is founded on the pillars of research and sharing knowledge and we see these as two opportunities to collaborate with Shire in the future."
Dr. Ramsey Morad, Vice President, Shire Eurasia, Middle East and Africa, commented:
"Our ambition at Shire is to change the future for people with rare diseases and we're working hard to accelerate patient access to our next-generation therapies. Shire EAMEA now employs nearly 500 people around the region and we're committed to growth.  We already provide 25 different rare-disease treatments to thousands of patients in the EAMEA region and have a number of important new launches planned over the next year."
Ramsey Morad, continued: 
"Our work doesn't stop here. Of the 7,000 known rare diseases, only 5% have a treatment. Time matters in the fight against rare diseases, and every day offers an opportunity to help patients. I am therefore delighted to be opening these new Dubai offices, designed to support our team by fostering collaboration, innovation and wellbeing and we are honored that H.E. Dr. Amin Hussain Al Amiri, is here to mark this special event.   All of us at Shire are excited to be developing our capabilities and investing in the region as we strive to improve the lives of people with rare diseases and other high-need conditions. They often face incredible challenges every day of their lives."
Categories