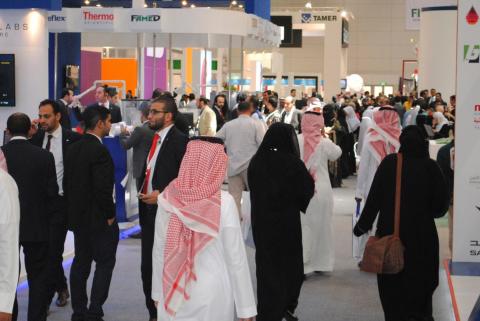 Riyadh – May 22, 2014: Saudi Health 2014, the largest healthcare event in KSA, has concludedon May 21, 2014 its three-day showcase at the Riyadh International Convention and Exhibition Centre, amid significant and unprecedented turnout from specialists and industry leaders. The event has attracted more than 12,000 visitors and 300 exhibitors from 35 countries that highlighted the latest developments and opportunities within the Saudi health care sector.
The prominent local healthcare event has facilitated a large number of business deals and cooperation agreements worth several billions of Saudi riyals. Saudi Health 2014 has contributed effectively in activating communication and cooperation among local and international industry leaders, as well as bringing the latest health care technology and equipment to the local market. It also provided a platform for discussing various training programs that ease and support expertise and knowledge exchange and local workforce development to strengthen their presence and position within the global market.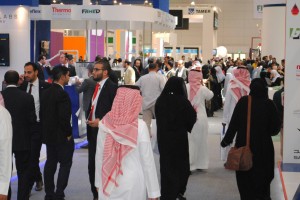 "The 2nd Saudi Health Exhibition & Conference success reassured the positive and promising status of the Saudi health care sector and its importance to the local industry leaders, in line with a foreign participation of 35 countries that confirmed the international interest in discussing cooperation prospects for the sake of promoting the potential and performance of the health care sector. The high proportion of visitors and their active participation have attracted the attention of all participants as it highlighted the importance of this event in terms of developing healthcare sector and addressing its challenges. We look forward to work together with all the contributors and sponsors to enhance the remarkable success of this event in the future", said Dr. Salah Al- Mazroa, Deputy Minister of Health for Engineering Affairs and Supply.
Saudi Health 2014 was organized under the auspices of Saudi Ministry of Health in the framework of joint cooperation between Riyadh Exhibitions Company and Informa Life Sciences Exhibitions, based on the vision of "Exhibition with Education". The 2nd Saudi Health Exhibition & Conferences has achieved an impressive growth rate of 30% compared to the last edition. The event, which was held on area exceeding 7,500 square meters, has provided a strategic platform to promote effective communication and establishing strategic and solid partnerships between the public and private sectors in Saudi Arabia. The event has further brought together a wide range of leading companies specialized in the medical sector, including regional and international health care providers, experts, dealers, traders, suppliers.
The education agenda of the event included 10 conferences authorized by Saudi Commission for Health Specialties (SCFHS), to discuss key issues affecting the health care sector on the local and regional levels, including nursing, hospital management, medical laboratories, biology engineering, medical engineering, cardiology, technical management of radiology departments, nuclear medicine, medical rehabilitation, future of the health sector and future of the Medical Radiology in KSA.
For more information about Saudi Health Exhibition & Conference 2014, please visit www.saudihealthexhibition.com.
Categories