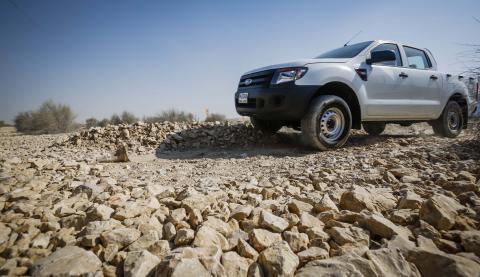 All-new 2014 Ford Fusion mid-size sedan and the Ford Ranger pick-up show off their segment leading technologies and driving dynamics 
DUBAI, UAE, 13 May 2014 – Over 300 regional Ford sales consultants, fleet customers and media are experiencing the Ford brand culture in depth over a two-week period, as Ford Middle East engages participants in Dubai and Riyadh, in the Ford brand DNA and pillars as manifested in its latest technologies and products across the spectrum.
At the forefront of the event are the all-new 2014 Ford Fusion mid-size sedan and the new Ford Ranger compact pickup, two of Ford's vehicles boasting their utmost capabilities and class-leading suite of technologies in various performance drives against some of the main segment competitors.
"In today's competitive marketplace, it's more important than ever for us to highlight how Ford cars stack up against the competition," said Kalyana Sivagnanam, director, Marketing, Sales and Service, Ford Middle East & North Africa. "From Fiesta to F-Series and all points in between, we have quite a story to tell.
"With an impressive list of game-changing technologies, class-leading engines and transmissions that work together to increase power and fuel economy as well as head-turning new designs, smart technologies and superior quality, now is a great time to show our partners across the board what makes Ford stand out from the rest."
Ford Fusion
"The new Fusion truly embodies what One Ford stands for," added Sivagnanam, while commenting on the new model. "Our global teams were challenged to develop a midsize car with a jaw-dropping design and groundbreaking fuel economy – one that featured technologies to help make our customers safer and better drivers. This car is the result, and we are excited to have it show off its segment leading features to our partners in the region.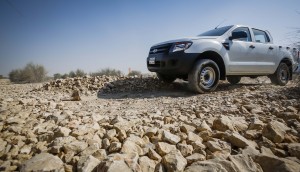 "Ford Fusion is a game-changer on all fronts thanks to its rich array of unexpected features and segment-first or even segment-exclusive technologies that truly make it stand out from the rest. We are confident it will witness the same level of response here as it does globally," he said.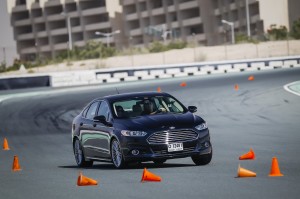 The all-new 2014 Fusion mid-size sedan offers an unprecedented portfolio of segment leading driver assistance and convenience technologies based on sensors, cameras and radar that enable the car to see and respond.
Fusion helps drivers maintain proper lane position, adjust vehicle speed to changing traffic conditions, identify suitable parking spaces and help park, even aiding drivers backing out of parking space where visibility is obstructed.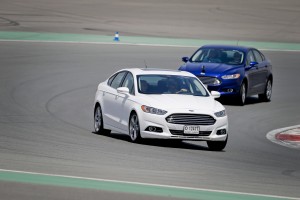 Lane Keeping System: This class-exclusive technology consists of three elements to help a driver maintain proper lane position. Using a small, forward-facing camera behind the inside rearview mirror, the system "looks" down the road, monitoring lane lines to determine that the car is on course. The system will alert a driver if drowsiness or erratic lane-keeping is detected. The second element warns a driver with a steering wheel vibration if the Fusion drifts too close to lane markings. Finally, lane keeping aid will actually apply pressure on the steering to help bring the car back into proper lane position
Adaptive cruise control: Using forward-looking radar, this system "looks" down the road when activated, slowing the Fusion when slower traffic is detected ahead. Adaptive cruise control enables collision warning with brake support to help slow the car if the potential of a crash is detected
Active park assist: Employing sensors, this technology can identify a suitable parallel parking space, calculate the trajectory and steer the car to properly position it within the spot. All a driver needs to do is to operate the accelerator and brake pedals
Blind Spot Information System (BLIS®) with cross-traffic alert: Sensors in both Fusion rear quarter-panels are able to detect traffic in a driver's blind spot, providing both audible and visual warnings if traffic – unseen by the driver – is detected. BLIS technology enables cross-traffic alert, warning the driver of oncoming traffic when backing out of a parking space with obstructed views, such as between two large vans 
Ford Ranger
The new Ford Ranger combines the toughness and capability of a pickup truck with smart technology, outstanding safety and the highest standards of quality and comfort.
Ford Ranger was designed and developed to be best-in-class in every area important to customers, especially those who use it for both work and leisure purposes. Ranger delivers more payload and class-leading towing capability than its previous models and, at the same time, is fitted out with innovative and comfort features that a dual user has come to want and value.
And as testament to its leadership of its class on all fronts, Ranger has registered nearly 200 per cent growth in sales around the Middle East, as more and more customers and businesses recognise the tremendous value this Built Ford Tough model presents while leading its segment in capability, performance, safety, comfort and fuel economy.
"The all-new Ranger is the culmination of four years of hard work by almost 500 engineers in Australia and around the Ford world," said Sivagnanam. "The Ranger has been designed, engineered and produced to lead in its segment. It is capable, comfortable, powerful, fuel-efficient, safe – and it is a pickup that anyone will be proud to own and confident to drive."
With occupant safety growing in importance for compact trucks as more people use the vehicle for both work and family transport, the Ford Ranger is setting new standards in safety with a comprehensive suite of active and passive safety features and technologies. It is the first and only pick up to earn a 5-star crash rating from EuroNCAP.
Designed and developed by a global team headquartered in Australia, the Ranger platform takes advantage of global Ford assets, particularly robust engines and six-speed transmissions proven in tough commercial-vehicle usage. The design and product development teams also had full access to Ford's global capabilities, testing facilities and extensive pickup truck knowledge.
Using latest computer technologies, the product development team conducted about 30,000 computer-aided assessments on areas such as safety, durability, ergonomics, vehicle dynamics and aerodynamics during the virtual phase. Of these, 7,500 virtual assessments were carried out in the under-body to ensure a robust vehicle foundation and more than 10,000 virtual assessments on the upper-body to align styling and functional requirements.
Tested in places such as Australia, Dubai, Thailand, North America, Brazil, Sweden and South Africa, Ranger had to face severe heat and cold, monsoon rains, high altitudes as well as rushing rivers, arid deserts and potholed roads. Prototypes clocked more than a million kilometres on the road supported by countless hours of exhaustive testing in state-of-the-art laboratories.
The all-new Ranger has been engineered and tested to ensure it can stand up to the toughest challenge. It can tow more, carry more, wade deeper and climb higher than many competitors.
In fact, Ranger's towing and water-wading capabilities are right at the top of the segment. Ranger can tow up to 3,350 kg on selected models with diesel engines while the 4x4 can wade through 800 millimetres of water even when fully laden. It also boasts outstanding payload capacity of more than 1,350 kg on some 4x2 variants, as well as excellent ground clearance of up to 241 millimetres.
About Ford Motor Company
Ford Motor Company, a global automotive industry leader based in Dearborn, Mich., manufactures or distributes automobiles across six continents. With about 180,000 employees and 65 plants worldwide, the company's automotive brands include Ford and Lincoln. The company provides financial services through Ford Motor Credit Company. For more information about Ford and its products worldwide please visit www.corporate.ford.com. 
Ford's history in the Middle East goes back more than 60 years. The company's local importer-dealers operate more than 155 facilities in the region and directly employ more than 7,000 people, the majority of whom are Arab Nationals. For more information on Ford Middle East, please visit www.me.ford.com 
Ford Middle East is also a responsible corporate citizen with currently three CSR initiatives running in the region including the Ford Motor Company Conservation & Environmental Grants, Ford Warriors in Pink® breast cancer awareness campaign and Ford Driving Skills for Life safe driving awareness programme for young drivers and teens. 
The Ford Grants is a grass-root level initiative that has offered US$1.3million in grants to more than 150 Middle Eastern environmental projects since 2000. Ford Warriors in Pink® is a breast cancer community-based awareness initiative recognising the strength and courage it takes to deal with the everyday challenges of battling breast cancer throughout the year.  Ford Driving Skills for Life is a free programme designed to impart safe driving practices to students to help improve their road safety record. 
Categories