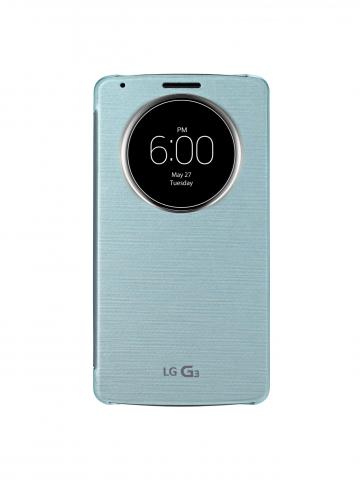 Customizable and Flexible, LG's Latest Accessory Does More Than Just Protect
Beirut, June 9, 2014 —LG Electronics (LG) officially unveiled the long awaited LG G3, it also introduced another product which was designed to make the G3 infinitely more useful, the QuickCircleTM Case. The folder-style case lets users enjoy various features of their G3 without ever having to open the cover. Users can check the time, place calls, send text messages, take photos, listen to music or get an update of their health directly from the circular window.
More stylish than traditional rectangular-windowed smartphone cases, LG's QuickCircleTM Case comes in five eye-catching colors: Metallic Black, Silk White, Shine Gold, Aqua Mint, Indian Pink. The case is designed to protect the side edges of the G3 and provide the best "grip-ability" while maintaining the G3's original sleek lines. To accentuate the beauty of its circular design language, Smart Lighting emits a soft, white, circular glow inside the window whenever the case is opened/closed or a call/text message is received.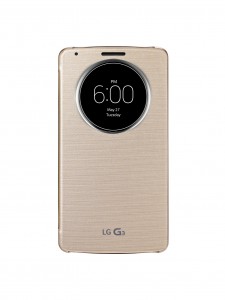 Wireless charging compatible with the Qi interface standard is also possible with the QuickCircleTM Case, adding more convenience and portability. A software development kit (SDK) will be available next month to allow developers to customize their LG G3 smartphones to perform customized functions with the QuickCircleTM Case.
"The smartphone ecosystem is constantly evolving — no longer are cases just for protection from the elements and bumps and drops," said Sean Lee, General Manager of LG Electronics in Lebanon. "They're the perfect accessory to build in extra features that add more value to a mobile device. With QuickCircle Case, we've exceeded the baseline by making it customizable to better fit users' needs."
* LG G3 QuickCircle™ Case preview video can be seen on YouTube at www.youtube.com/watch?v=AVtZAPjOcBI.
About LG Electronics, Inc.
LG Electronics, Inc. (KSE: 066570.KS) is a global leader and technology innovator in consumer electronics, mobile communications and home appliances, employing 87,000 people working in 113 locations around the world. With 2013 global sales of USD 53.10 billion (KRW 58.14 trillion), LG comprises five business units ― Home Entertainment, Mobile Communications, Home Appliance, Air Conditioning & Energy Solution and Vehicle Components ― and is one of the world's leading producers of flat panel TVs, mobile devices, air conditioners, washing machines and refrigerators. LG Electronics is a 2013 ENERGY STAR? Partner of the Year. For more news and information on LG Electronics, please visit www.LGnewsroom.com.
About LG Electronics Mobile Communications Company
LG Electronics Mobile Communications Company is an innovator and trend leader in the global mobile communications industry. LG is driving the evolution of mobile forward with its highly competitive core technologies in the areas of display, battery and camera optics and strategic partnerships with noted industry leaders. LG's consumer-centric products — including the flagship premium G Series models — incorporate unique, ergonomic designs and intuitive UX features that enhance the user experience. The company remains committed to leading consumers into the era of convergence, maximizing inter-device connectivity between smartphones, tablets and a wide range of home and portable electronics products. For more information, please visit www.LG.com   
Categories