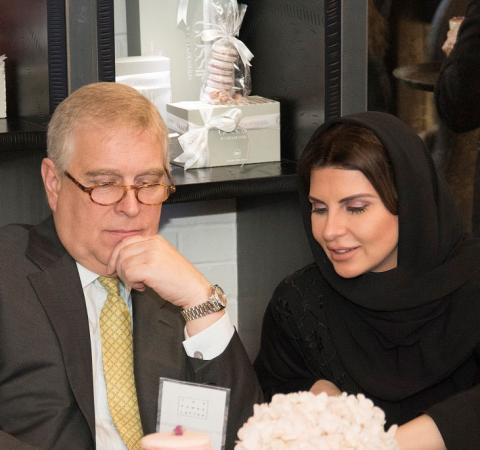 Duke of York attends UAE edition of 'Pitch@Palace' in Abu Dhabi
Under the patronage of His Highness Sheikh Mohammad Bin Zayed Al Nahyan, Crown Prince of Abu Dhabi and Deputy Supreme Commander of the UAE Armed Forces, the UAE edition of the 'Pitch@Palace' initiative was recently held at the Emirates Palace in Abu Dhabi. The event was attended by His Royal Highness (HRH) Prince Andrew, the Duke of York. During his visit, Prince Andrew revealed that UAE homegrown brand, GOSSIP Cafe and Desserts, will be going to St. James's Palace, the most senior royal palace in the United Kingdom. The announcement follows after GOSSIP Cafe and Desserts was named as the official food entrepreneur of the UAE edition of the 'Pitch@Palace' initiative, a program that seeks to provide a platform for entrepreneurs to meet the people who can help them make their business proposals become a reality.
Dr. Shayma Fawwaz with HRH Prince Andrew, the Duke of York at Gossip Cafe and Desserts
The event was also held in the presence of H.E Sheikh Hamed Bin Zayed Al Nahyan, Chief of the Abu Dhabi Crown Prince's Court and Hussain Jassim Al Nowais, Chairman of the Khalifa Fund for Enterprise Development. The Duke of York attended the finals with the aim to provide guidance and connect promising local entrepreneurs with potential supporters like CEOs, influencers, mentors and likely business partners. Prince Andrew also encouraged UK businesses to visit the UAE and explore potential investment opportunities. During the finals round, the Duke of York had the opportunity to visit GOSSIP Cafe and Desserts where he was met by Dr. Shayma Fawwaz, an Emirati entrepreneur and creator of the cafe's original concept.
 The Duke of York was served an array of the cafe's famous GOSSIP MilkCakes, Arabic Qahwa, designer cakes and desserts like truffles and Designer Dates. Prince Andrew lauded the cafe's concept of introducing contemporary Euro-American cuisine infused with Emirati inspired flavors.
"Being selected as the official food entrepreneur of the 'Pitch@Palace' initiative is truly a great honor and privilege for us. We would also like to extend our thanks to the Khalifa Foundation, which has been highly instrumental in the move to showcase local entrepreneurs on a more global platform. In addition, we are equally humbled with the visit of HRH Prince Andrew to the cafe. His visit to the UAE for the 'Pitch@Palace' initiative provides key inspiration to local entrepreneurs who have potential business ideas, while also allowing them the opportunity to experience the culture of entrepreneurship at a young age." concluded Dr. Fawwaz.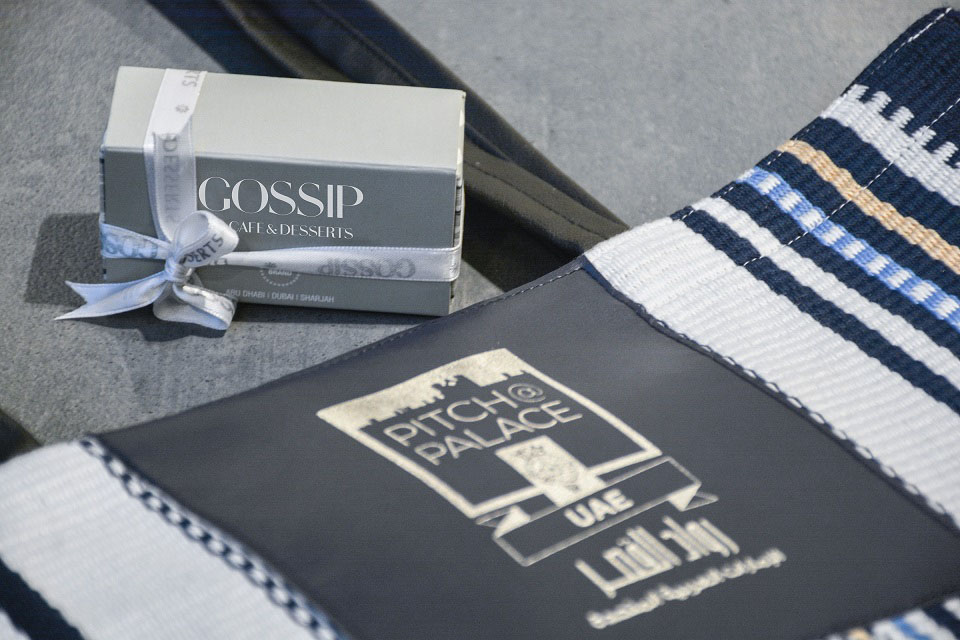 From the Pitch@Palace initiative
'Pitch@Palace' is a program that aims to provide entrepreneurs with the opportunity to meet the people who can help make their business dreams become a reality. The initiative has held regional editions of the event across key locations like Estonia, Malaysia, Mexico, China, Singapore, UAE and Australia. Potential participants are selected to take part in a Boot Camp where they will be given key support and guidance on how to develop and hone their Pitch, as well as support with investment, introductions and strategic guidance. All of the entrepreneurs selected for Boot Camp are invited to the final event at St. James's Palace wherein a selection of these businesses will pitch directly to an influential audience from the worlds of entrepreneurship, technology, media and investment. All of the Pitch@Palace entrepreneurs, whether selected to pitch at St. James's Palace or not, join a growing alumni network of entrepreneurs and receive ongoing support.
About Gossip Café and Desserts:
GOSSIP Cafe and Desserts serves contemporary Euro-American cuisine with Emirati inspired flavors. Our cafés provide a visually exciting, dining experience thru our savory and sweet dishes made from the highest quality of fresh, natural and organic ingredients. Our boutiques are one-of-a-kind stylish retail outlets. We serve healthy, organic beverages, organic coffees and teas to accompany our Afternoon Tea service. For your special occasions, design your own cake from our extensive selection of flavored cakes and buttercreams for an haute couture designer cake experience. Our packaging is uniquely branded, accentuating our flair for a fashion-forward brand identity. Our gift boxes allow for luxury gifting of all our desserts, which can be picked up or delivered within hours to any location in UAE.
Categories